Cases of deadly childhood virus surge for the first time this winter – 4 signs every parent must know | The Sun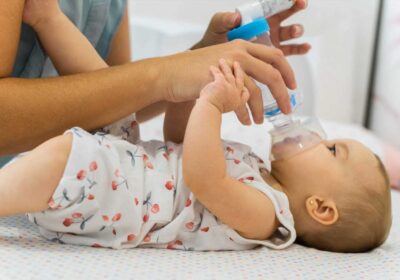 CASES of a deadly childhood virus have surged for the first time this winter, new figures reveal.
Respiratory syncytial virus (RSV) is the leading cause of infant mortality, killing thousands of children each year.
The virus typically causes cold-like symptoms, but is a leading cause of lung infections like pneumonia and bronchiolitis in infants and elderly people, and increases the risk of hospitalisation and death.
Infection rates of the deadly bug have started to increase in the UK in recent weeks, especially among the youngest, most vulnerable age group.
According to the UK Health Security Agency (UKHSA), there has been a five per cent surge in cases among under 5s during the week ending October 20, compared to the week before.
The figures show there has been a one per cent rise across all ages.
Raed more on RSV
VIRAL LOAD
From the Pirola variant to RSV – 7 viruses in circulation and how to spot them
BUG'S LIFE
From Strep A to Covid variant Pirola and RSV – all the school bugs you must know
RSV cases are following a similar trajectory to last winter, when cases were higher than usual due to kids having lower immunity after staying at home during the various Covid lockdowns.
The UKHSA data also shows visits to A&E for bronchiolitis in the under 1s have also increased.
As have hospitalisations for RSV in the under 5s with more than 10 children per 100,000 of the population in that group admitted for treatment – higher than any other age group.
In the UK about 30,000 babies and children under five need hospital treatment every year due to RSV, though fewer than 90 now die from it.
Most read in Health
FLIPPIN LIKE RIPPON
The secrets to Angela Rippon's splits & stretches to boost flexibility
RAY OF HOPE
I was first woman in world to get breast cancer jab – I'll see my kids grow up
INDI'S FIGHT
Parents lose appeal to keep critically ill baby Indi on life support
TRIPLE TRAGEDY
Our 3 daughters died within weeks of each other at the same hospital
Infections in older adults account for about 8,000 deaths, 14,000 hospitalisations and 175,000 GP appointments in the UK each year – more than flu during a typical winter season.
In July, Britain's health regulator approved an RSV vaccine for adults 60 and older, for the first time.
Dr Conall Watson, an epidemiologist at the UKHSA, said: "As expected at this time of year, we are starting to see a rise in RSV infections in young children.
"While usually mild, the infection can cause breathing difficulties for babies and the elderly.
"Initial symptoms in infants are similar to a cold, but can go on to include breathing more quickly or noisily and having difficulties eating.
"If your baby has a cold that is getting worse, or it is causing unusual breathing or problems feeding, call NHS 111 or contact your GP practice.
"As a parent you should trust your own judgement and call 999 or go to A&E if your child seems seriously unwell such as difficulty breathing, having blue or grey lips, or if they are floppy and will not wake up or stay awake."
The 4 signs every parent must know
Most of the time RSV symptoms are very mild and can be managed at home.
But in some cases it can escalate leading to deadly complications.
Naomi Watt , a respiratory nurse specialist at charity Asthma + Lung UK, said: "RSV can sometimes lead to bronchiolitis, an infection of the smaller airways in the lungs."
In very young infants, symptoms include:
Refusal to breastfeed or bottle-feed
Breathing more quickly and noisily (wheezing)
Seeming very tired, upset or inactive
Signs of dehydration – lack of tears when crying, little or no urine in their nappy for six hours, and cool, dry skin
In older kids, signs are similar to mild cold symptoms, including congestion, runny nose, fever, cough and sore throat.
Naomi says: "We would advise any parents worried about their child having RSV or bronchiolitis to speak to their doctor, or call 111.
"Our helpline is available from 9am to 5pm on Fridays, call 0300 222 5800."
How to prevent RSV
RSV season usually begins in the autumn and peaks in the winter.
Like other respiratory viruses, it's spread through contact with droplets from the nose and throat of infected people when they cough and sneeze.
According to the Centers for Disease Control and Prevention, you can limit the spread of RSV by making sure you and your family follow preventive measures:
Read More on The Sun
SOFA SO GOOD
Huge sofa chain with 100 stores SOLD in £100m deal
KISS & TELL
Towie star Saffron's secret romance revealed as she kisses new man on night out
Wash your hands often
Avoid touching your face with unwashed hands
Avoid close contact with sick people
Cover your coughs and sneezes
Clean frequently touched surfaces
Stay home when you are sick
Source: Read Full Article