Caroline Manzo: I'd Return to 'RHONJ' to 'Knock the S–t Out' of Teresa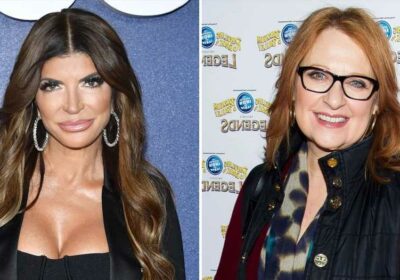 Let her tell you something! Caroline Manzo fielded a question about whether she'd return to The Real Housewives of New Jersey to "straighten out" Teresa Giudice, and she didn't mince words in her response.
Former 'RHONJ' Stars: Where Are They Now?
"I'm just gonna put it out there, because I just don't give a f–k, alright?" the Manzo'd With Children alum, 60, said during a recent episode of her son Albie Manzo's "Dear Albie" podcast. "You know what? I would get great pleasure, fans, community, to go in and just knock the s–t out of her verbally and just put her in her place."
Caroline left RHONJ after season 5 aired in 2013, but she said she's noticed something's going on with her former costar, 50, because her "social media has gone insane" with tweets about the Celebrity Apprentice alum.
"I am tired. I am tired of certain things," the Let Me Tell You Something author continued. "I am tired of her opening her very uneducated mouth, OK, and using me as a weapon to say that I was the one that spearheaded her IRS claim and stuff like that. We are not those people."
Biggest 'Real Housewives' Feuds Ever — And Where the Relationships Stand Today
In 2019, Teresa hinted that she believed Caroline had something to do with her and ex-husband Joe Giudice's fraud conviction. The Turning the Tables author spent 11 months in prison in 2015, while Joe, 50, spent 41 months behind bars. After his release, the Italy-born reality star was deported from the United States.
"Could [Caroline] have anything to do with what happened to Joe and I?" Teresa asked during the October 2019 special Joe and Teresa: Unlocked. "Is she a rat?"
The Real Housewives Ultimate Girls Trip star mentioned her former costar again during the RHONJ season 12 reunion, which aired earlier this month. Teresa claimed that Melissa and Joe Gorga befriended Caroline and her sister-in-law Jacqueline Laurita in order to turn them "against" her and Joe Giudice.
Biggest Reality TV Fights Ever: From 'Real Housewives' to 'Jersey Shore'
Caroline, for her part, wasn't pleased. "You know what, Teresa? Why are you so obsessed with me?" she said during the podcast. "So, guess what — if you are so obsessed with me, I am more than happy to come and answer your claim."
The Manzo matriarch alleged that the only reason she's not coming back is because Bravo "doesn't want" to pay her. "You don't get this for free," she added. "You don't get the dame for free, Bravo."
Caroline also said that she has "PTSD from doing Housewives," but she'd be willing to return to set the record straight. "Sometimes you gotta smack the bully," she told Albie, 35. "I am more than happy to go smack the bully."
For access to all our exclusive celebrity videos and interviews – Subscribe on YouTube!
Source: Read Full Article