Candace Cameron Bure 'never' tried Taco Bell, hasn't eaten fast food in 20 years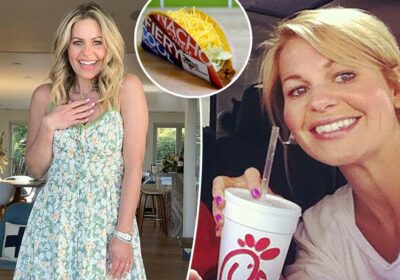 More On:
candace cameron-bure
Lori Loughlin all smiles at her first awards show since college admissions scandal
Candace Cameron Bure slams 'difficult' cancel culture after marriage comments
Neal Bledsoe exits Great American Family after Candace Cameron controversy
Candace Cameron Bure unfollows Jodie Sweetin after marriage comments backlash
She's not getting "Fuller" on Crunchwrap Supremes.
Candace Cameron Bure admitted she has "never" tried Taco Bell and last ate fast food two decades ago — with the exception of one popular burger joint.
"I haven't eaten fast food except for In-N-Out in 20 years," the "Fuller House" star, 47, recently wrote on her Instagram Story.
"Some days I wonder what a burger and fries is like from McDonalds or Burger King or Wendy's or any of those other places I've never eaten at."
Cameron Bure confessed that she was hit with a craving for the greasy meals but ultimately decided to stay committed to making healthy choices.
"And no, I've never had Taco Bell or anything similar," she wrote in another Story, adding, "I don't regret it. You can't convince me otherwise."
However, internet sleuths dug up a photo of the actress enjoying takeout from Chick-fil-A in her car with one of her kids in 2012. (She shares daughter Natasha, 24, and sons Lev, 23, and Maksim, 21, with her husband, Valeri Bure.)
"We love chikin!" Cameron Bure captioned the since-deleted Instagram selfie.
"Perhaps Candace Cameron Bure shouldn't say that she hasn't eaten fast food in 20 years because that's a blatant lie. She bought Chick Fil A in 2012," one person tweeted.
"@candacecbure this you?" another wrote along with the photo in question.
The former "Full House" child star has been an impassioned advocate for maintaining a healthy lifestyle. She frequently posts her workouts on social media and promotes body image.
Cameron Bure even hit back at a body shamer in 2018.
"All that exercising, and you still look like you weigh more than your husband, did you change your diet?" a troll commented on one of her photos at the time, to which the star replied, "If a 25-inch waist looks big to you … then you're looking through an altered lens. Be well."
Cameron Bure hasn't always had a healthy relationship with food. She had an eating disorder when "Full House" wrapped in 1995, sharing in her 2010 memoir, "Reshaping It All," that she would binge and purge.
"I knew I had a problem, but again, it's like being on a runaway train and you wanna get off but you don't know how to get off," she told "Entertainment Tonight" in 2016. "I kind of lost my identity in a sense, and what happened was I turned to food for comfort when my husband was traveling and when I was alone.
"I had a very unhealthy relationship with food that turned into bulimia."
The former "View" co-host has also been outspoken about the importance of sexual health in her marriage.
For more Page Six you love …
Listen to our weekly "We Hear" podcast
Subscribe to our daily newsletter
Shop our exclusive merch
"I'm a happier person and my husband's a happier person when we've had sex," she shared on the "Bialik Breakdown" podcast last September, adding that they "make time for each other [and] still love each other physically."
She added, "Some days, you just need the release."
Cameron Bure was ensnared in controversy last year when she said in an interview that Great American Family, the TV network she joined after leaving Hallmark Channel, "will keep traditional marriage at the core."
She was accused of being a "bigot" and dragged by several celebrities including JoJo Siwa, Hilarie Burton and her former "Full House" co-star Jodie Sweetin.
But Cameron Bure doubled down on her comments, saying she has "great love and affection for all people."
"It absolutely breaks my heart that anyone would ever think I intentionally would want to offend and hurt anyone," she told Page Six in a lengthy statement last November.
"It saddens me that the media is often seeking to divide us, even around a subject as comforting and merry as Christmas movies. But, given the toxic climate in our culture right now, I shouldn't be surprised."
In February, Cameron Bure slammed cancel culture again, calling it "real and "difficult."
Share this article:
Source: Read Full Article