Can you try on clothes in shops? Changing rooms reopening guidelines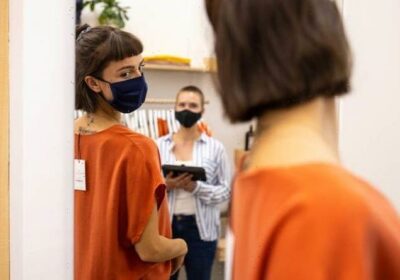 Liverpool: Shoppers arrive at Primark after easing of restrictions
When you subscribe we will use the information you provide to send you these newsletters. Sometimes they'll include recommendations for other related newsletters or services we offer. Our Privacy Notice explains more about how we use your data, and your rights. You can unsubscribe at any time.
Non-essential shops are finally back up and running in England, with stores in Wales, Scotland and Northern Ireland to follow soon, and Brits have been making the most of their freedom and the glorious weather by heading out to spend the money saved up during lockdown. As retail stores such as Primark – which haven't been able to operate during the lockdown – experience unbelievable queues and packed-out stores, many customers are wondering whether or not they will be allowed to try on clothes.
Can you try on clothes in shops?
According to the Government's guidelines, the changing rooms in stores will technically be allowed to reopen from April 12 at non-essential retailers, with very strict safety measures.
However, whether or not they choose to reopen will be at their own discretion.
The guidance states fitting rooms will require regular cleaning when they return to public use.
There must be adequate breaks between the use of cubicles, and doors and curtains must be kept open when not in use.
However, while John Lewis and H&M have said they will reopen rooms, some chains have warned fitting rooms could take several months to return due to overcrowding, staffing and administrative concerns.
The guidance states rooms should be cleaned between each use and clothing that has been tried on should be steamed or put aside for several days to ensure germs are not passed on.
The government also stipulates that only one person at a time should be allowed in fitting rooms, with staff in place to manage social distancing and queues.
Primark said changing rooms will not reopen today and Marks & Spencer said the same. However, M&S shoppers will be able to book appointments for bra fitting in stores, where a member of staff will advise customers on how to measure themselves.
Services such as fitting rooms are viewed as key for stores as they attempt to fight back against competition from online rivals.
What steps will I have to follow when stores reopen?
In line with the law, face coverings remain mandatory.
In-store washrooms will be allowed to open, however toilets must be kept clean and social distancing adhered to as much as possible.
Shops are encouraged to supply hand drying facilities such as paper towels, continuous roller towels or electric dryers.
Customers are encouraged to shop alone and only with other people, such as children, where absolutely necessary.
Members of the public will need to follow a one-in-one-out system, except where customers require specific assistance, including customers with children or those with disabilities.
Fitting rooms will reopen but only one person will be in at a time except where customers require specific assistance.
There must be a gap of several minutes between one customer leaving a cubicle and the next customer entering. Some stores may have reduced the number of changing rooms in operation.
Empty fitting rooms will be kept open to increase fresh air flow into cubicles.
Shoppers must follow social distancing marking in areas where queues normally form.
Testers will be off-limits and customers will be encouraged to only touch items they intend to purchase.
For the transfer of items between staff and customers, there will be pick-up and drop-off collection points in place.
There will also be a 'no contact' return procedure where customers take return goods to a designated area.
Customers will be asked to pay on card or use contactless where possible.
Face coverings remain mandatory in shops and supermarkets, indoor shopping centres, banks, building societies, post offices and where food or drink is purchased.
If a shop, outlet or supermarket has a café or seating area for customers to eat and drink, then the face covering can be removed only when customers are seated to eat or drink.
Source: Read Full Article