Budget 2021: We work out which families are richer or poorer after yesterday's announcements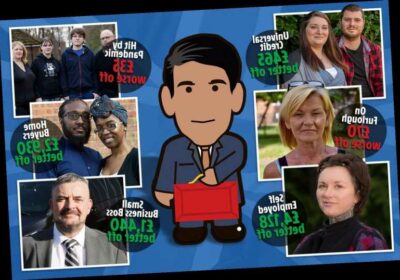 MILLIONS of families' finances are in the most perilous place they have ever been.
More than six million people are on furlough and the Government has borrowed £400BILLION to prop up the economy since the Covid crisis.
🔵 Read our Budget 2021 live blog for the latest news & updates
So did Chancellor Rishi Sunak come good yesterday for those affected by the pandemic?
Sun tax expert Jim Lee has worked out which families are richer or poorer after yesterday's Budget.
ON UNIVERSAL CREDIT
Getting extra £20 per week is brilliant
JAMES Kennewell and fiancee Laura Parnham are expecting their second child in August.
James earns £24,500 a year as a stock controller. The couple, whose daughter Isla is three, claim Universal Credit and are delighted that the £20 extra a week brought in during the pandemic will be continued for six months, giving them an extra £500. James, 27, from Huntingdon, Cambs, who runs a diesel car, says: "It was a very good Budget for us. I'm pleased they have frozen fuel duty again and I wanted the Universal Credit top-up to be extended, which is brilliant.
"We would love to buy a house. The 95 per cent guaranteed mortgage for first-time buyers could help us get our own place."
Winners: £465 better off
ON FURLOUGH
It's tough . . . I want to get back to work
HAIRDRESSER Marguerite Parry has been furloughed twice during the past year and her welder husband, Lee, was made redundant. 
Marguerite, 53, from Merthyr Tydfil, South Wales, earns £8.50 an hour. She had to use £6,000 of her savings to stay afloat while Lee, 54, found a new job as a carer.
Both of them will each pay £35 more as the tax allowances threshold is frozen.
She says: "It's been really tough. Extending the furlough scheme to September leaves me worried we could be in lockdown for longer because of the new variants of the virus.
"I want to get back to the salon next month but at least I know my wages will be paid for the next six months.
"And I was delighted to see that hair salons will be able to claim a grant of up to £18,000."
Loser: £70 worse off
JOB-SEEKER
Freeport is great news for the area
SHOP assistant Marley Conley, 17, lost her department store job just before Christmas.
She had only been in the £4.75- an-hour job for five months and did not qualify for furlough payments because the store was classed as non-essential retail in the latest lockdown.
Marley, from Middlesbrough, said: "I've applied everywhere and can't find anything. There are so many people of my age looking for work." Teesside is set to get a jobs boost when it becomes Britain's biggest free port, while the Treasury will move from London to nearby Darlington, creating new government posts.
Marley says: "It is great news for the area. I may be able to get an apprenticeship because firms that take on young people will get £3,000." 
No change
HIT BY PANDEMIC
Minimum wage should've gone up more
ON the very day last summer the furlough scheme was extended, Helen Gourley was made redundant from her £32,000-a-year job as a customer experience leader at Edinburgh Airport.
Helen, 46, now works part-time in a supermarket, doing 16 hours on £9.30 an hour. Husband Gerald earns £20,000 a year as a fireplace fitter. The couple and their children Jake, 17, and Zoe, 13, had to cut their bills from £3,000 to £2,000 a month. Helen, from Dunblane, Stirlingshire, says: "It's good the minimum wage has gone up to £8.91. But I am concerned about the freeze on Gerald's tax allowance. It has made us worse off when we need every penny."
Losers: £35 worse off
HOME BUYERS
We would have struggled to buy a home
FIRST-TIME buyers Jaleesa Reid and partner Nathan King saved £3,000 thanks to the Chancellor's stamp duty holiday extension.
Last October NHS administrator Jaleesa, 31, and teacher Nathan 34, had an offer accepted on a £350,000 house. But they feared the sale would not complete by March 31, the previous deadline. And the couple, who are customers of lender Trussle, thought the extra £3,000 they would have to pay in stamp duty would kill the deal.
They can now buy their first home but will be £70 down due to the personal tax allowance freeze. Jaleesa, from Walthamstow, East London, said: "If the stamp duty holiday hadn't been extended we would have struggled."
Winners: £2,930 better off
SELF-EMPLOYED
It's great news and a weight off my mind
SELF-EMPLOYED Helen Mainwaring's was one of 600,000 businesses that fell through the net when it came to getting pandemic support.
Helen, 38, closed her salon and set up as a freelance mobile hairdresser. But her new business had not been going long enough to qualify for help. 
The Chancellor announced that busin-esses like hers that had put in a tax return could get help. Helen, who was forced to live off her savings and moved back in with her mum, filed her return showing £10,320 profit.
Thanks to the Budget, Helen, of Swansea, can claim £4,126 under the Self Employment Income Support Scheme. She says: "That's great news. It's a weight off my mind as I worried about how I would pay for things when I'm not working." 
Winner: £4,128 better off
SMALL BUSINESS BOSS
We're down 80% on pre-Covid turnover
BOSS Dave Griffin said: "Exten­ding the furlough scheme has saved my business."
His private hire car company, which specialises in airport runs, saw takings drop from £340,000 to just £30,000. Dave, 50, from Worcester, took a £50,000 bounce-back loan. He says: "Extending the furlough scheme will be a real help. I hope we will be eligible for a restart grant. We are down 80 per cent on our turnover, so this would be a huge help."
Pre-Covid, Dave's firm spent £2,000 a month on fuel. Thanks to the Chancellor reversing his decision to raise taxes on petrol and diesel he will save £1,440.
Dave added: "I'm delighted. With airport journeys of 200-300 miles we would have had to put up prices and lost customers." 
Winner: £1,440 better off
PUB LANDLADY
I hope the hospitality grant will help
PUB landlady Sarah Miller reckons she has lost at least £500,000 due to the pandemic.
Her boozer, the Newbold Comyn Arms, in Leamington Spa, Warwicks, has a big garden so will reopen on April 12 under outdoor restriction rules.
Furlough has helped keep staff in jobs and Sarah took a £50,000 coronavirus business interruption loan which she would have started to repay next month, but the repayment date has been extended by six months.
Pubs can claim a hospitality grant of up to £18,000 to help relaunch after lockdown.
Sarah, 52, said: "I hope the grant will be a help. I don't know what we'll be entitled to. My concern is how long it will be before we receive that money."
£18,000 Government grant
GOT a story? RING The Sun on 0207 782 4104 or WHATSAPP on 07423720250 or EMAIL [email protected]
Source: Read Full Article