Boulder shooting: Two girls, aged 13 & 14, survived massacre by 'hiding upstairs in a coat closet for an hour'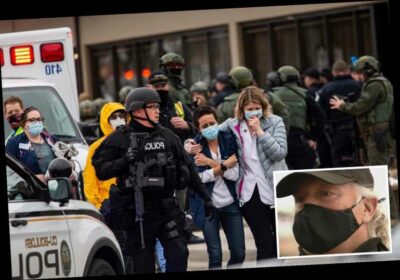 TWO sisters aged 13 and 14 survived the Boulder supermarket shooting by hiding among coats in a closet, their grandad revealed.
Steven McCue said the girls are safe but "traumatized" after ten people were massacred by a marauding gunman with an AR-15-style rifle.
Steven said his granddaughters hid in silence for an hour until cops stormed through the roof and led them to safety.
He told Denver TV station KUSA his son-in-law was waiting to get a Covid vaccine when the gunman shot a woman in front of him.
He said: "He saw it and got the girls down. They ran and hid upstairs in a coat closet for an hour, in the coats.
"They were communicating with my daughter through his phone, texting.
"Half a dozen cops came in through the roof and got them and then told them 'Stay quiet'."
He added: "It was traumatizing for them. This is going to be pretty hard for them to live with I think." 
Other survivors told of panic in the aisles as the killer picked off victims one by one without saying a word.
"He just came in and started shooting," one shopper told The Denver Post.
Another said the gunman "let off a couple of shots, then was silent, and then he let off a couple more. He wasn't spraying."