'Bonking neighbour is all that's keeping me sane as my wife's terrible in bed'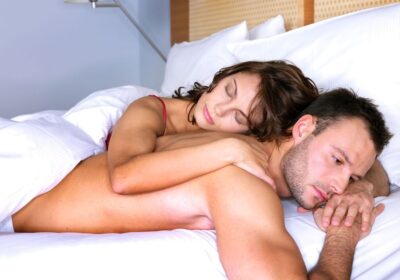 Sleeping with my neighbour is the only thing keeping me sane.
The fun woman next door is my sole sexual outlet as my new wife is a disappointing dud in bed.
I married back in March. Everyone told me I was punching above my weight because she's so smart and successful. I should be on Cloud Nine, but she's simply not interested in intimacy.
READ MORE: 'My ex wants a bonk buddy and wants 'just sex' meetings – I'm addicted to him'
Keep up to date with all the latest advice from our agony aunt Just Jane here
Our honeymoon was a washout with her finding every excuse in the world not to get naked with me. I ended up masturbating in the shower.
On our last night I had one too many to drink and blew my top. I demanded to hear what was going on as our sex life had been adequate before our wedding.
She accused me of being "obsessed with sex" (I'm not) and we've only made love half a dozen (half-hearted) times since. I got together with my horny neighbour one afternoon in September when I accidentally locked myself out.
It was a hot day and she offered me a drink. One thing led to another and we found ourselves bonking on her couch.
Now I'm in there every day having the time of my life. She's warm, experimental and hot – everything my wife is not. My wife knows nothing of my double life, and I don't even think she'd care if she did. It's gradually dawned on me that I'm merely a tick in a box as far as she is concerned.
She has her job and her status, and her family are happy that she's settled and respectable. But I need and want more. How dare she trap and use me when I've got specific sexual needs and have so much to give?
JANE SAYS: Isn't there going to come a point when your neighbour demands more of you? These regular trysts are one thing, but with sex frequently comes an emotional attachment.
How are you going to react when she asks you to declare your intentions or even move in with her? You don't mention her relationship status; whether she's single or in a relationship, but no one likes to be used.
I urge you to return to your home (stop sleeping with your neighbour) and start talking to your wife. Be honest about your needs.
What is her take on your marriage? Is she worried or ill? Is she conflicted regarding her true sexuality? Did she feel obliged to marry you in order to please or silence her family? Does he need to see she GP?
Suggest relationship counselling if you feel it'll help. Ultimately, you may decide that your neighbour is, indeed, the one for you, but everything has to be done in the right order.
You deserve to be happy and to feel sexually and emotionally satisfied but creeping around behind your wife's back is not adult, acceptable or the right way to act.
Source: Read Full Article