Bonfire night recipe: Speedy spicy firecracker noodles – ready in under 5 minutes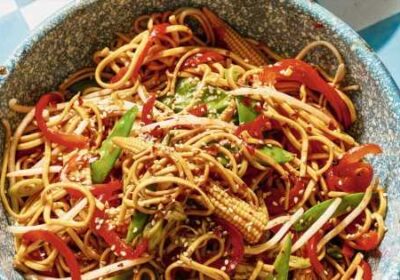 This easy pleaser is a delicious dish for your next dinnertime or Guy Fawkes celebrations – just get in the kitchen and start combining flavours.
Taken from the first cookbook from Chris Collins, the Instagram comfort-food sensation and owner of award-winning blog, Don't Go Bacon My Heart, you won't be disappointed, especially if you enjoy a bit of spice.
With 257k followers on Instagram, 368k followers on TikTok and 620k monthly page views for his blog, Chris Collins knows his stuff when it comes to cooking.
And don't worry, if you prefer your food a with a little less heat just remove the sriracha sauce and chilli flakes – easy peasy!
Firecracker Noodle Stir Fry
Serves 2-4
Ingredients
230g medium egg noodles (typically 4 nests)
1 tbsp sesame oil
2 tbsp vegetable oil
2 red peppers, deseeded and thinly sliced
100g baby sweetcorn, quartered lengthways then halved (smaller ones just halved lengthways)
100g mangetout
2 cloves of garlic, finely chopped
1 tsp finely chopped fresh ginger
200g beansprouts
4 spring onions, thinly sliced
Sesame seeds, to garnish
For the sauce
60ml light soy sauce
2 heaped tbsp brown sugar (light or dark)
2 tbsp sriracha
1 tbsp oyster sauce
Juice of 1 lime
½ tsp dried chilli flakes, plus extra to garnish if desired
¼ tsp white pepper
1. Cook the noodles according to the packet instructions (they're typically simmered in boiling water for around 4 minutes). Drain and toss with the sesame oil.
2. Meanwhile, mix together the ingredients for the sauce in a bowl.
3. Heat the vegetable oil in a wok over a high heat. Once the oil is hot, add the peppers and baby sweetcorn and fry for 2 minutes until they start to soften very slightly, then add the mangetout and fry for a further minute. Add the garlic and ginger and fry for around 30 seconds until they just begin to colour.
4. Take the wok off the heat and add the noodles a few portions at a time (so they don't clump up), then pour in the sauce. Place the wok back on the heat and toss the noodles until just coated, then add the beansprouts and spring onions. Toss for another minute or so to warm everything through, thicken the sauce and soften the beansprouts slightly.
5. Garnish with sesame seeds (and more chilli flakes, if you dare!)
Comfy by Chris Collins (Penguin Michael Joseph, £22), recipe photography by Haraala Hamilton
Source: Read Full Article