Boeing pleads not guilty to fraud in Texas court over Max jet crashes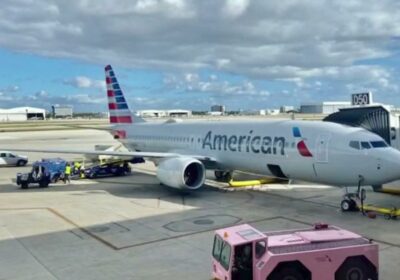 video
Passenger on 1st Boeing 737 MAX flight shares his experience
Ryan Ewing on first Boeing 737 MAX flight
Representatives of Boeing and relatives of some passengers killed in two crashes of the company's 737 Max jets met in a Texas courtroom on Thursday, where the world's second-largest airplane maker pleaded not guilty after being arraigned on a criminal charge.
Mike Delaney, Boeing's chief safety officer, entered the not-guilty plea on behalf of the company. A not-guilty plea is standard in deferred prosecution agreements.
Boeing said it had made "broad and deep changes" across the company, as well as changes to the design of the 737 Max to ensure that "accidents like these never happen again."
BOEING BACK IN COURT OVER 737 MAX CRASHES AS FEDERAL SETTLEMENT IN JEOPARDY
"We are deeply sorry to all who lost loved ones on Lion Air Flight 610 and Ethiopian Flight 302, and greatly respect those who expressed their views at the hearing today. We will never forget the lives lost in these accidents and their memory drives us every day to uphold our responsibility to all who depend on the safety of our products," a company spokesperson told FOX Business Digital in an email on Thursday afternoon. 
"We also are committed to continuing to comply scrupulously with all of our obligations under the agreement we entered into with the Justice Department two years ago," the spokesperson added.
This comes after Boeing's chief executive Dave Calhoun told CNBC on Wednesday that his company did not object to the arraignment and expressed sympathy for the families of the crash victims. 
The family members were not consulted before Boeing struck a deal with the Department of Justice to avoid prosecution on a felony charge of fraud. 
The relatives want the court to impose conditions on Boeing as much as it would on any criminal defendant.
Nadia Milleron, mother of Samya Stumo, carries photos of those killed in the 2019 crash of the Ethiopian Airlines 737 Max aircraft as she walks to federal court for the Boeing arraignment hearing in Fort Worth, Tex., Jan. 26, 2023. (AP Photo/LM Otero / AP Images)

According to a Wednesday filing, the families argued that those conditions should include a court-appointed monitor to evaluate Boeing and whether it is creating a culture of safety and ethics — making that process public.

Boeing had reached a settlement with the government in early 2021. It was charged with a single count of defrauding the U.S. to get regulators to approve the Max jet. The Department of Justice agreed to defer the prosecution and drop the charge if it were to $2.5 billion and commit no other crimes for three years.

The settlement included a $500 million fund to compensate victims' families and a $243.6 million fine. Most of the funds went to airlines that weren't able to use their 737 Max jets for nearly two years after the crashes.

However, U.S. District Judge Reed O'Connor ordered Boeing to be arraigned after he found that the department violated a victims-rights law by not telling the families about secret negotiations with Boeing. 

US INVESTIGATORS BELIEVE 2019 BOEING 737 CRASH IN ETHIOPIA WAS MOST LIKELY CAUSED BY IMPACT WITH A BIRD
Zipporah Kuria, of London, carries a photo of her deceased father, Joseph Waithaka, as she walks into federal court for the Boeing arraignment hearing in Fort Worth, Tex., Jan. 26, 2023. Waithaka was killed in 2019 crash of a Boeing 737 Max airliner. (AP Photo/LM Otero / AP Images)

While the current Department of Justice did not oppose an arraignment, it continues to agree with Boeing that the settlement should stand. 

In a November filing, it said that, without the settlement, the government would lose its ability to ensure that Boeing follows through with reforms designed to prevent future incidents.

Boeing said that month that it opposes any effort to reopen the agreement, calling it "unprecedented, unworkable and inequitable." It noted that it has been complying with the agreement for nearly two years.

UNITED AIRLINES PLACES MASSIVE BOEING DREAMLINER ORDER
Wreckage is piled at the crash scene of Ethiopian Airlines flight ET302 near Bishoftu, Ethiopia, March 11, 2019. The U.S. National Transportation Safety Board said Tuesday, Jan. 24, 2023, that a sensor that gave false readings about the plane was dam (AP Photo/Mulugeta Ayene / AP Images)

The first Max passenger flight was in 2017. The crashes occurred in October 2018 in Indonesia and March 2019 in Ethiopia, killing 346 people. 

Before the crashes, an automated flight-control system that Boeing did not initially disclose to airlines and pilots pushed the nose down based on a faulty sensor reading. The multinational company placed blame on two former employees for misleading the Federal Aviation Administration about the system.

One of those employees – a test pilot who was the only person prosecuted in connection with the Max – was found not guilty last year.

FOX Business' Eric Revell, Reuters and The Associated Press contributed to this report.

CLICK HERE TO READ MORE ON FOX BUSINESS 

Boeing Co
Ticker
Security
Last
Change
Change %
BA
THE BOEING CO.
212.79
+0.11
+0.05%
Source: Read Full Article