BBC documentary lifts lid on Irish dancing cheating and sex scandal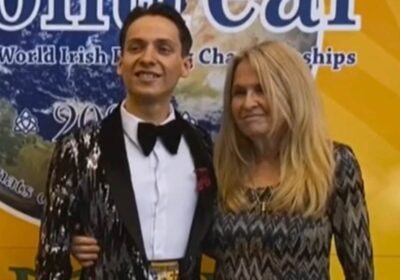 Irish dancing world is compared to 'the Mafia' in new BBC documentary, with parents saying they were 'too scared to speak out' over 2022 cheating scandal which exposed teachers and judges 'bribing each other with sex for podium places'
Three-part series The Year that Rocked Irish Dancing looks into allegations of competition fixing and sexual bribes at 2022's All-Ireland Championships
Read more: World of Irish dancing is rocked by sex scandal as claims emerge that teachers are offering 'favours' in return for competition medals
An Irish dancer says he worries he may have only won a major competition because he was an unwitting victim in the cheating and sex bribes scandal that shocked the world of Irish dancing in 2022. 
TikTok and dance star Owen Luebbers, who grew up in Philadelphia, became one of the first people to speak on record about the 'feis-fixing' scandal, which engulfed the 'squeaky clean' industry last year, telling a new BBC One documentary that he almost didn't use his voice because he 'feared being marked down' at competitions in the future. 
The 25-year-old told the three-part series The Year that Rocked Irish Dancing how he'd achieved major success at the World Championships in 2017 with former dance school owner Kevin Broesler – only to later be left questioning his win when he was alerted to text messages last year suggesting a judge had helped the young dancer bag the trophy. 
TikTok and Irish dancing star Owen Luebbers, 25, who grew up in Philadelphia but trained in Dublin, told makers of new three-part series The Year that Rocked Irish Dancing that he fears he was the victim of the cheating and sex bribe scandal that sparked a investigation last year – and worries that a major championship that he won may not have been on his own merit
Up to a dozen Irish dance teachers and judges were investigated after being accused of colluding to award podium finishes at the All-Ireland Championships – after a whistleblower leaked messages to the press in Dublin and New York.
At the time, then deputy Irish PM Leo Varadkar called for a full investigation by an external body saying the allegations risked 'reputational damage' for Ireland. 
Following an independent investigation, 44 cases proceeded to a full disciplinary hearing, which commenced in August this year. 
Luebbers says he's since questioned whether he deserved the 2017 World Championships title, saying: 'Obviously at the time, I wouldn't have thought anything of it but after having seen the text and seeing that my name was mentioned specifically. 
'It does make me wonder. I go back and question "Did I deserve it?"'.
This year Luebber won the senior men's World Championships title. Kevin Broesler, who ran the Broesler School of Irish Dance, suspended himself from his own school following the allegations.  
Journalists involved in breaking the story about the scandal – after being tipped off via anonymous emails that contained bombshell texts, reveal in the programme how they were left stunned that what was generally thought of 'a child's hobby' was being 'run like the Mafia' at the top of the sport – with many people too afraid to speak out on the allegations after the scandal hit.
Dublin-based journalist Ellen Coyne reveals in the three-part documentary how she first received an anonymous email alerting her to potential match-fixing during the competition in 2022.
Messages leaked to the press appeared to show judges and teachers colluding; with the main  investigation focusing on the All-Ireland Championships last year
Owen Luebbers' former coach Kevin Broesler, left, resigned shortly after the investigation into the scandal began. The dancer is now working with a new coach and recently scooped a major trophy at the All Scotland's Championships 2023
Luebbers, who's still competing at 25, says the scandal made him question whether he'd won medals via his own merit
Luebbers, who appears in the documentary alongside his mother and sister Cassidy (pictured on stage with Owen), told the programme that he wants to continue to reach his potential on his own merit despite now being in the older age category 
Ellen Coyne, a journalist from The Irish Independent, was one of the first people to be tipped off by an anonymous whistleblower about the scandal, saying that trying to get people to come forward on the record was almost impossible at first, comparing the higher echelons of the sport to 'like the mafia'
Text messages between teachers whose pupils were competing in an Irish dancing championship and judges appear to show them fixing places in the contest – including in return for sexual favours
Coyne said while the anonymous emails then began coming into her inbox thick and fast, no one would speak out, comparing the scenario to like the 'omerta that you would see in Italian mafiosos'.  
In New York, editor of Irish Central Kerry O'Shea, tells the programme that she had received a similar message at the same time as Coyne, with details attached of messages alluding to match-fixing – and one suggesting a sexual bribe – allegedly being shared between teachers and judges. 
O'Shea says she was shocked by the note, which read: 'Will you be writing anything about the twisted world of Irish Dancing and the sick f**** involved in it'. 
Editor of Irish Central, Kerry O'Shea, said it became clear to her pretty quickly that children had been used as 'pawns in an adult game'
The three-part documentary, airing on BBC One looks at the murkier side of Irish dancing
Irish journalist Ellen Coyne said she was unable to get the CLRG – dubbed 'the guardians of Irish dance' – to comment on the story
The journalist reflected on the messages landing in her inbox, saying the judges and teachers were 'basically using young competitors as pawns in seeking your own gratification – it just seemed wild to me.' 
The emails would ignite a scandal that unearthed dozens of messages that appeared to be related to competition fixing.
In one exchange, a judge tells a teacher that 'other forms of appreciation' are accepted and the teacher responds by saying that if they can get a particular student to first place then they can have 'anything you want ;)'
The judge also says: 'Is it not time you came to my room?'
Other graphic messages alleged to have been shared included: 'Do you swallow?', 'You know the way to 100' and 'I'll suck your d*** at the world (dancing competition) as a thank you'. 
The highly-competitive world of Irish dancing sees schools across the world compete for prizes – with those given top awards able to charge more for places at their institutions (file image of Irish dancing contest)
THE MESSAGES THAT ROCKED THE 'SQUEAKY CLEAN' WORLD OF IRISH DANCING
The competition fixing was alleged to have occurred both in the Republic and Northern Ireland during All-Ireland Championships 2022 and qualifying rounds.
Several teachers were alleged to ask favourable judges to sit in on competitions in which their own children or pupils are dancing.
One judge is alleged to have sent messages to a dance teacher during an All-Ireland Championship.
A teacher at the competition asks the judge: 'Are you on boys u12? If you are, he's number [competition number of dancer]. Thank you x.'
The judge replies: 'Yes, got it'.
The next day, the teacher has another request: 'Hiya. Have a really good girl u14 no [competition number]. Could be podium. Have a girl u15 that needs to qualify no [competition number].' This gets a 'thumbs up' symbol from the judge.
On the following day, the teacher has yet another request: 'Have my babies dancing tomorrow u16. My son *****, [son's competition number] would love a medal. **** is number [competition number] would love top 3.'
The judge replies: 'I'm on solos.'
Leaked text messages have now been passed on from a whistleblower on the US East Coast to an investigation in Ireland, which has been ordered by deputy PM Leo Varadkar
The teacher says: 'Jaysus. I'm f***ed so with you and [another favourable judge] on solos.'
Another teacher sent photos of two of her pupils to a judge, so that the judge could identify them. 'Girls u11 tomorrow. Don't have [competition] numbers as I'm not going til the morn. [first name and surname] and [first name and surname] are the names'.
The judge replies with a winking emoticon.
Another teacher begs for a high score for his students and also for the judge to ensure that other favourable judges are appointed to the same competition.
After the judge gave a good mark to one of his students, the teacher writes: 'Thanks for today. Do u know what you are on tomorrow? Begging if you are on [child's name] to do what you can Xxx.'
The judge replies: 'I know.'
The teacher then asks: 'Are you on the 18s?' When the judge confirms that they are, the teacher replies: 'Thank god!!! Who else is with you? Is it bad?'
The judge asks: 'Who do you want?'
The teacher then names four judges he doesn't want.
The judge replies that the teacher won't have the first judge on the list but he is not sure about the second.
Another judge tells a teacher that they 'accept other forms of appreciation', and in response is told: 'If you can get [name redacted] to give [name redacted] First anything You want ;)'
The same judge also says: 'Is it not time you came to my room?'
Other graphic messages alleged to have been shared included: 'Do you swallow?', 'You know the way to 100' and 'I'll suck your d*** at the world (dancing competition) as a thank you'. 
Coyne says when the scandal broke, the Irish dancing governing body, An Coimisiún Le Rincí Gaelacha (CLRG), 'pulled down the blinds', refusing to comment, saying: 'It was ostrich mentality. They genuinely thought it was going to go away.'
The CLRG organises Ireland's regional and national championships as well as the World Irish Dancing Championships, which in April drew 3,500 dancers to Belfast. There are qualifying competitions in the US, UK and Australia. 
Coyne tells the programme: 'Everybody in Irish dancing knew this was a major global scandal – except for CLRG.' 
She added: 'I have never seen a response like it. CLRG didn't want to answer the phones, wouldn't respond to emails. I showed up at their offices, they pulled down the blinds. There was no comprehension within the CLRG of the necessity to be accountable'.    
The first disciplinary hearings began in late August, although it's unclear whether they're still going on.  
A spokesman for the CLRG told The Irish Independent in late September: 'CLRG confirms the first disciplinary hearings commenced in late August. We will provide a statement once all hearings have been completed. We will not be providing a running commentary while hearings are ongoing.'
The Year that Rocked Irish Dancing is available now on BBC iPlayer 
Source: Read Full Article