Ava DuVernay's 'Caste' Film Rounds Out Ensemble With Blair Underwood, Finn Wittrock, Victoria Pedretti and Isha Blaaker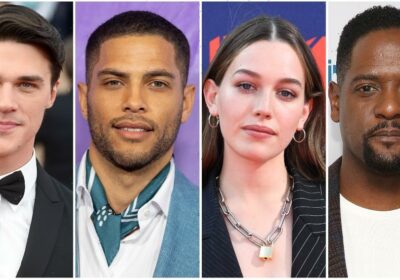 The cast of Ava DuVernay's latest film, inspired by Pulitzer Prize winner Isabel Wilkerson's "Caste: The Origins of Our Discontents," is now complete with the addition of Blair Underwood, Finn Wittrock, Victoria Pedretti, Isha Blaaker, Leonardo Nam, Donna Mills and Emily Yancy.
The seven actors join Oscar nominee Aunjanue Ellis, who was previously announced as the lead in the film, as well as Oscar nominee Vera Farmiga, Niecy Nash-Betts, Nick Offerman, Jon Bernthal, Audra McDonald, Connie Nielsen, Jasmine Cephas Jones and Myles Frost.
Announced in October 2020, DuVernay serves as the writer and director of "Caste," which adapts Wilkerson's acclaimed book. Described in The New York Times as "an instant American classic and almost certainly the keynote nonfiction book of the American century thus far," the book — and subsequently DuVernay's film — examines the system of hierarchy that has shaped America.
DuVernay also produces the project alongside frequent collaborator Paul Garnes of Array Filmworks ("Selma," "Middle of Nowhere"). The independent film, financed by J4A, shot in Savannah, Ga. and Berlin, Germany, with principal photography currently continuing in Delhi, India.
Underwood — like Ellis, Farmiga and Nash-Betts — reunites with DuVernay after starring in the Emmy-winning 2019 Netflix limited series "When They See Us," but the rest of the new cast are first-time collaborators with the filmmaker.
Pedretti is best known for her role as Love Quinn in Netflix series "You," along with "The Haunting of Bly Manor" and its follow-up "The Haunting of Hill House," while Wittrock is a two-time Emmy nominee for "American Crime Story: The Assassination of Gianni Versace" and "American Horror Story." Underwood most recently starred in Showtime's "Three Women," Netflix's "Self-Made: Inspired by the Life of Madame CJ Walker" and, in 2021, received a Tony award nomination for his role as Captain Richard Davenport in the Kenny Leon-directed Broadway production of "A Soldier's Play."
Underwood, Pedretti and Wittrock are represented by CAA.
Nam is a SAG Award nominee for his role in HBO's "Westworld," with film credits including "The Fast and the Furious: Tokyo Drift," "Sisterhood of the Traveling Pants 2" and "Werewolf by Night."
Veteran actor Yancy's career spans from 1963 to the present with credits including HBO's "Sharp Objects," "Nine Months" and "Cotton Comes to Harlem." Meanwhile, Blaaker is a relative newcomer with roles on HBO Max's "The Flight Attendant" and Starz's "Run the World."
Best known for her role as Abby Ewing on the award-winning series "Knots Landing," Mills is also a Daytime Emmy winner for "General Hospital." She most recently appeared in "Nope," and on an episode of the hit ABC series "The Rookie: Feds," starring Nash-Betts.
Nam is represented by A3 Artists Agency; Yancy is repped by CESD talent agency; Blaaker is repped by Innovative Artists; and Mills is repped by Momentum talent and literary agency.
Read More About:
Source: Read Full Article