Ana Bárbara Crowned as BMI Icon at 2023 BMI Latin Awards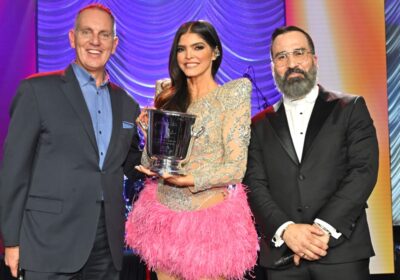 Ana Bárbara, otherwise known as "Grupera Queen," received her flowers as a BMI Icon at the 30th annual BMI Latin Awards held at the Beverly Wilshire Hotel on March 21.
The singer — whose blended style of rancheras, norteño and Latin pop helped to define the grupero genre — became the first regional Mexican songwriter to receive the accolade for her musical career which spans over 30 years of chart-topping hits like "Bandido" and "Lo Busqué," which dominated radio across Mexico and the United States.
It was a big night for música Mexicana as Edgar Barrera, one of the most sought-after songwriters and producers of the last few years, was given the first-ever Impact award for his award-winning contributions across genres like contemporary Latin and regional Mexican. Throughout the night, he returned to the stage to accept over 10 trophies as the most recognized songwriter at this year's ceremony. (He was also the top-nominated act at last year's Latin Grammys.)
The private event was hosted by BMI President/CEO Mike O'Neill and BMI VP of Creative (Latin) Jesus Gonzalez, who took turns presenting throughout the night in both English and Spanish. Among the night's top winners were Bad Bunny hitmaker Tainy, who won the coveted contemporary songwriter of the year award, and Horacio Palencia, who tied with Barrera as the regional Mexican songwriter of the year.
Meanwhile, Sony/ATV Music Publishing was named contemporary Latin publisher of the year in recognition of global hits like "Baila Conmigo," "In Da Getto," "Lo Siento BB:/" and Farruko's "Pepas," which was crowned contemporary Latin song of the year with the honor going songwriters Víctor Cardenas VIIC, IAMCHINO, Axel Quezada "Ghetto" and Keriel K4G Quiróz.
Elsewhere, "Jugaste y Sufrí" — performed by Eslabon Armado and Danny Lux — won the regional Mexican song of the year award and Universal Music Publishing Group secured regional Mexican publisher of the year.
The night opened and closed with performances of Bárbara's songs; an all-female ensemble comprised of the Mariachi Divas, Adriana Ríos, Angélica Gallegos, Alisun Solís and Lupita Infante, sang a medley and were greeted by an emotional Bárbara at the foot of the second their last note wrapped.
Bárbara later graced the stage herself to accept her trophy and salute her mentors, the late Joan Sebastian, and Marco Antonio Solís, along with her biggest inspirations: composers/singers Agustín Lara, José Alfredo Jiménez and Ana Gabriel. Then, backed by her band, she treated the audience to a dazzling showcase of her songs "Qué Poca," "Quise Olvidar," "No Es Brujería," and "Lo Busqué."
In receiving the BMI Icon Award, Bárbara joins acts such as Carlos Santana, Gloria Estefan, Juan Luis Guerra, Los Tigres del Norte and Los Lobos, among others.
Read More About:
Source: Read Full Article