Amazon's Echo Pop smart speaker with Alexa is now just £17.99 – save an incredible 60%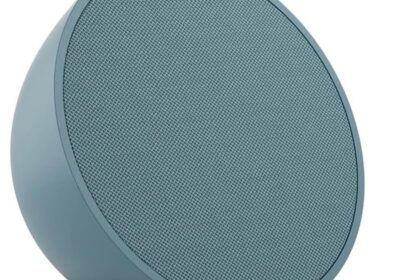 With Autumn now well and truly in full swing, many of us will be spending more time indoors to try and beat the unpredictable weather – but just because we're not out on the town, doesn't mean that we can't bring a little party atmosphere into our homes.
Whether you're gearing up for a Halloween shindig, prepping for Christmas party season, or even just wanting to make yourself the life and soul of your new university flat share, the Amazon Echo Pop smart speakerhas you covered – with the small but mighty bluetooth speaker currently on sale for just £17.99 ahead of October Prime Day.
With near instant connection to platforms such as the Amazon Music app and Spotify available straight out of the box, there's no need to fuss with cabling and fiddly instruction menus to get the tunes flowing, with the sound quality itself more than adequate for any social gathering.
Not only does the Echo Pop pack a functional punch, it also carries some series aesthetic charm too, with the slimline design and flat front discreetly fitting into any sized room without drawing attention to itself.
However, for any shopper hoping to make it more of a statement piece, the Echo Pop comes in four distinct colour ways, charcoal, glacier white, midnight teal and lavender bloom, allowing purchasers to pick the colour that best corresponds with their own interiors.
Interestingly, the dinky piece of kit, which comes in at around half the size of a regular Echo Dot, also carries almost all of the same functionality you can expect of it's more pricey rival – making it one of the cheapest ways to introduce Amazon's flagship voice assistant Alexa to your home.
This makes it perfect for hands free track changes by asking Alexa to play your favourite song, or even check some last minute cooking instructions while prepping for a dinner party!
Currently priced at the lowest it has ever been, the stylish speaker is definitely one you won't want to miss, with it's purse friendly price point and jam packed set of features making it an ideal addition to any home.
The Echo Pop isn't the only Amazon product currently on sale however, as several of the company's flagship smart home devices are also currently on sale ahead of Prime Day.
These include theEcho Dot (5th Generation, 2022, release), priced at £21.99 here, which is currently retailing for a whopping 60% off the RRP.
Hailed by many consumers as the best sounding Echo Dot yet, the latest update to the device brings with it an improved audio performance with double the bass and clearer vocals.
In addition, the updated model now also includes temperature and motion sensors to work seamlessly with any compatible light bulbs, thermostats and other smart products to help take the hassle out of modern living.
For shoppers willing to splurge a little more, theEcho Studio, priced at £164.99 here is also a popular choice with fans of the company, with Amazon itself even hailing it as the best Bluetooth and Wifi speaker ever!
Currently on sale for 25% less than it's usual RRP, the Echo studio features a combination of technological features, indulging spatial audio processing and a far more immersive audio experience.
Utilising the help of five speakers, the Echo Studio packs a powerful bass punch with dynamic midrange and crisp highs adding the overall listening experience.
The Echo Studio is also equipped with Dolby Atmos technology, something which adds space, clarity and depth to everything from your favourite pop songs through to Audible's very own audiobooks!
Source: Read Full Article