'Ahsoka' Is the Most Expansive 'Star Wars' Show Yet — But Risks Spreading the Galaxy Far, Far Too Thin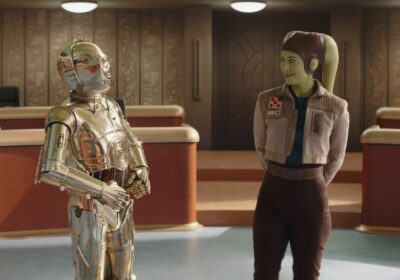 SPOILER ALERT: This story discusses major plot developments in the Season 1 finale of "Ahsoka," currently streaming on Disney+.
There's a brief moment in the penultimate episode of Season 1 of "Ahsoka" when characters from at least four different eras of "Star Wars" occupy the same scene. The most recent character is Capt. Carson Teva (Paul Sun-Hyung Lee), the New Republic ranger first introduced in 2020 on the Disney+ series "The Mandalorian." Then there's the focus of the scene, Gen. Hera Syndulla (Mary Elizabeth Winstead), first introduced in 2014 on the animated series "Star Wars: Rebels" as voiced by Vanessa Marshall. Presiding over it all is Chancellor Mon Mothma (Genevieve O'Reilly), who has occupied three different eras of "Star Wars" on her own. She was first introduced (briefly) in 1983's "Star Wars: Return of the Jedi" as played by Caroline Blakiston, then showed up (even more briefly) in 2005's "Star Wars: Revenge of the Sith" as played by O'Reilly, and then appeared in 2016's "Rogue One" and had a far more substantial presence on the first season of the Disney+ series "Andor" in 2022. Finally, making a surprise appearance on "Ahsoka" to save the day once again: C-3PO (Anthony Daniels), the loyal protocol droid who speaks the first line of "Star Wars" dialogue ever ("Did you hear that?") in 1977's "Star Wars: A New Hope."
Phew! Even in our current era of legacy sequels and franchise universes, bringing all of these characters together is a real testament to "Star Wars" as one of the most enduring cultural forces of the last 50 years. I'm just not quite sure it was, you know, good storyelling — or, at least, whether that kind of storytelling will allow "Star Wars" to endure for another 50 years.
On one level, "Ahsoka" embraces the same kind of straightforward plotting first embraced by "The Mandalorian": Over the course of the season, former Jedi Ahsoka Tano (Rosario Dawson) tries to stop the return of Grand Admiral Thrawn (Lars Mikkelsen) and reconnect with her erstwhile apprentice, Sabine Wren (Natasha Liu Bordizzo), while Sabine yearns to be reunited with her long-lost best friend Ezra Bridger (Eman Esfandi), who disappeared with Thrawn. Every episode moves those twin stories forward in clear, unambiguous fashion, introducing new worlds, creatures and mythology into the "Star Wars" canon, but never letting those elements overwhelm the central plot. It all culminates with a classic reversal: Thrawn and Ezra escape their exile and return home, while Ahsoka and Sabine remain trapped on the same forsaken planet where Thrawn and Ezra had been living for decades.
Even on those terms, however, "Ahsoka" represents an ambitious gambit: The show's creator and sole writer, Dave Filoni, built the show on a foundation laid by two animated shows he co-created that a large majority of "Star Wars" fans have never seen. Ahsoka's storyline on her titular show draws largely from "Star Wars: The Clone Wars," which ran for five seasons from 2008 to 2013 on Cartoon Network, then for a season on Netflix in 2014, and then for a final season on Disney+ in 2020. Thrawn, Sabine and Ezra's storyline draws from "Star Wars Rebels," which ran for four seasons on Disney XD from 2014 to 2018.
Filoni doesn't leave the "Ahsoka" audience totally in the dark; each character's relationship is sketched out with enough detail to ensure that anyone who hadn't seen "The Clone Wars" and "Rebels" can follow along. But only just. The deeper emotional context — why Sabine is so profoundly attached to Ezra, why Ahsoka so often finds herself alone, who Thrawn even is and why his return is such a threat, and how Ezra and Thrawn were exiled into another galaxy in the first place — are kept at an arm's length for anyone who hadn't watched the combined 208 episodes of "Clone Wars" and "Rebels." (That's roughly 75 hours of content; by comparison, the 11 live-action "Star Wars" movies are just under 25 hours.)
This would be fine if "Ahsoka" billed itself just as a continuation of those two shows. By servicing a particular sub-culture of the "Star Wars" fan base, "Ahsoka" could help to foster something akin to how the "Star Trek" fandom has operated for over 30 years — there's a "Trek" title for just about everyone, but not everyone needs to love, let alone watch, every "Trek" title. ("Andor," which transformed "Star Wars" into a vehicle for grounded human drama, is a perfect example of this kind of categorization; those who love it, love it, but some "Star Wars" fans feel it's not for them, and that's fine! Healthy, even!)
"Ahsoka," however, is also a spinoff of "The Mandalorian" and "The Book of Boba Fett" — parts of a wider, interconnected story about the looming threats to the fledgling New Republic which Lucasfilm announced in April will culminate in a feature film directed by Filoni. So "Star Wars" fans who want to keep up with that saga have to watch "Ahsoka" — even if they've never seen a second of "Clone Wars" or "Rebels."
This kind of narrative sprawl can feel exciting, embracing the seemingly infinite storytelling potential inherent in the "Star Wars" universe. But as Marvel Studios has learned of late, expanding a cinematic universe for its own sake can stretch a franchise precariously thin.
Take the aforementioned scene in "Ahsoka" with the four legacy "Star Wars" characters. I had to look up whether C-3PO and Gen. Syndulla had ever shared a scene together before — they had, for just a few seconds, in the third-ever episode of "Rebels." But Filoni can't expect that the entire "Ahsoka" audience would know about that, so rather than have Gen. Syndulla say something to C-3PO like, "Hey, I guess this makes up for that time that you stowed away on my ship and accidentally alerted the Empire to our presence, huh," they just stare awkwardly at each other like co-workers at a mandatory office party. All of the emotional energy of the scene comes from our external relationship to these characters occupying the same space, not their relationship to each other. As fan service, it's fun, but as drama, it's a meaningless dead end.
Filoni is far more successful at this kind of interconnectivity in Episode 5 of "Ahsoka," which reunites Ahsoka with her former Jedi master, Anakin Skywalker (Hayden Christensen). They meet in the World Between Worlds, a metaphysical nexus of space and time first introduced on "Rebels" that goes unexplained on "Ahsoka," and as Anakin takes them on a tour of their time together from "The Clone Wars," no one pauses the action to elucidate what we're seeing. None of that matters. Dawson and Christensen, even though they've never played opposite each other before, bring a palpable spark to the connection between their characters. They matter to each other — profoundly so. So they matter to us.
But "Star Wars" cannot thrive if it only keeps resurrecting its past over and over and over again — even "Andor" is built as a preamble to "Rogue One," which is itself a preamble to "A New Hope." Lucasfilm appears to understand this: "The Acolyte," a new Disney+ series due next year, is set 100 years before the events of "Star Wars: Episode I — The Phantom Menace," though that still allows for a slightly younger Yoda to pop up now and again. Director James Mangold, meanwhile, is planning a feature film set 25,000 years in the past, which he told Variety in June will be "a 'Ten Commandments' about the dawning of the Force."
"Ahsoka," in its way, goes even further, spending its final episodes in a totally separate galaxy never before explored in the history of "Star Wars." The most exciting part about the (possibly series, more likely season) finale, in fact, is that it leaves Ahsoka and Sabine stranded there. Of course, they will inevitably get back home to battle Thrawn alongside Din Djarin and Grogu and Fennec Shand, "Avengers: Endgame"-style. I just hope they're not in a big rush to get there.
Read More About:
Source: Read Full Article