Adult star shares what happens if you lose erection on set – and it's mortifying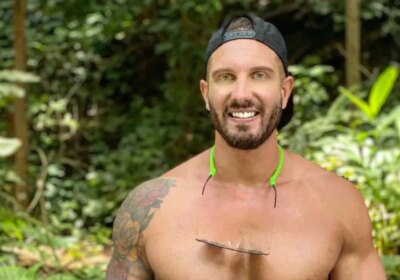 A British bloke who turned to the adult industry after his wife gave birth revealed the mortifying things that happen if you lose an erection on set.
Quinton James, whose real name is Christopher Hodgson, has only been left holding "noodle" a couple of times in his five year career – but there was one humiliating moment he will never forget.
A limp todger causes chaos for all involved and Quinton explained that the male performer could actually lose money rather than make it if their chopper suddenly gets shy.
READ MORE: 'I love watching husband sleep with other women – he takes pictures if I'm not there'
Keep up to date with all the wildest lifestyle stories from the Daily Star
The former actor and model, who is now based in Las Vegas with his wife and son, spoke to the legendary Scouse adult actress, Tanya Tate, about what can go wrong behind the scenes.
He said: "Guys, I am going to tell you this now, it is not easy. The pressure is on us. If we fail and it is just a noodle and they have to call the whole day… Nobody gets paid, the crew doesn't get paid, the girl doesn't get paid and you might have to pay a kill fee to the girl for not being able to perform. That's the stress you are on."
Speaking on Tanya's Skinfluencer Success podcast, he added: "A girl can go on there and have a stressful day or whatever and she can go 'lube' or whatever…. And then on top of that if you do get through the scene, you have to be ready to come on demand but some people take a long time."
He then went on to talk about one experience during a boy boy girl scene where they had to wait for an hour after the bulk of the scene was already filmed until his male colleague was finally able to get the all important money shot.
Tanya, who is a 12-time International MILF of the Year, laughed: "It's the worst that can happen. You go through the whole scene and you are right at the end and the guy can't get to completion and you've got the the crew the, the girl there, and everyone is basically staring at the guy and you are either helping him or you are glaring at him and the face is like 'hurry up'."
Quinton became a raunchy performer after telling his wife he wanted to bonk other women six months after she gave birth. The pair had been in a non-monogamous relationship before the pregnancy and his partner suggested the adult industry if he wanted to continue bedding different people.
He is now one of the most recognisable male performers and he opened up to Tanya about the time his whopper completely let him down.
Telling the bonkers story, he said: "It was a garage and it was 140 degrees in there and we were on this little couch and I am just like sweating, sweating, sweating and there are like two minutes left.
"I was like I just need a break, I was so hot. I went to the fridge, put my head in the fridge, got back out there and I am stressing, now my mind is stressing, and I couldn't get a boner for an hour, couldn't get it up again for an hour…
"I am just there… I am in my mind then, too in my head, because I am there with this half noodle in my hand just like 'come on' and then just the same thing like everyone is waiting on me, everyone is waiting for me.
Want all the biggest Lifestyle news straight to your inbox? Sign up for our free Daily Star Hot Topics newsletter.
"They will cancel the day with two minutes left and then once you get in your head it is hard for guys to get out. It is a mental game for men.
"It took me an hour and I was like 'ok right, let's go' and we did it. But the stress I felt leaving and the guilt that I felt. I was just like 'right I can't do that again so how can I fix that or how can I make that better'?"
Thankfully, Quinton's dong has never let him down on set since…
Source: Read Full Article