Adorable video shows baby rhino playing best friend – a dog!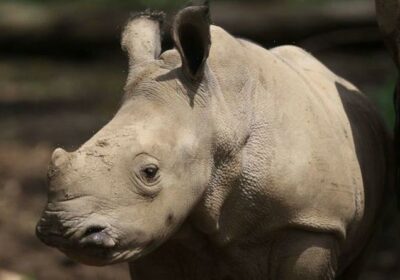 Jasiri the rhino befriends a cat before returning to the wild
We use your sign-up to provide content in ways you've consented to and to improve our understanding of you. This may include adverts from us and 3rd parties based on our understanding. You can unsubscribe at any time. More info
Esme who lives at Hoedspruit Endangered Species Centre (HESC) in South Africa, was only a month old when she was taken to sanctuary when her mother was unable to produce milk. hile at HESC, the young mammal had no other rhinos that wanted to befriend her until it was decided to introduce David, a Anatolian Shepherd dog.
David the dog and Esme the rhino are the best of friends and in one video David can be see kissing his pal.
Juandrey Simons, animal curator at HESC recalls how David and Esme's unique friendship began, saying: "From the first time that they met one another, they were loving towards one another. It was a match made in heaven.
"She was feeling down David would go and lick her, they were always together and inseperable, they basically just grew up together."
As their bond gew, the pair were filmed and photographed by the team dedicated to helping vunerable species across Africa.
Video clips show David affectionaley nibbling on the tip of Esme's horn and the duo chasing each other around a field.
Both rhino and pooch played together for a year until Esme had grown too big to safely play with David anymore, with an incident where she accidently stepped on his paw.
Alone again the white rhino became despressed with her two-year-old best friend, until the conservation brought in a lamb named Millie, who is now her new playmate.
Juandrey added: "When you are with these animals 24.7 you give them love and attention, its rewarding as it pays off. She will go back into the wild and live a happy life there."
Keep up to date with all our TeamDogs news by following our social pages. As well as videos, tips and advice, we'll also be sharing some of your amazing doggy pictures so follow us on Facebook, Instagram and Twitter.
DON'T MISS:
Dog who saved suicidal owner nominated for award [REPORT]
Meghan Markle's love for dogs – How many dogs does she have? [VIDEO]
Sheepdog is allergic to sheep [REVEAL]
Source: Read Full Article