Aaron Carter had 'an obsession' with brother Nick, friend claims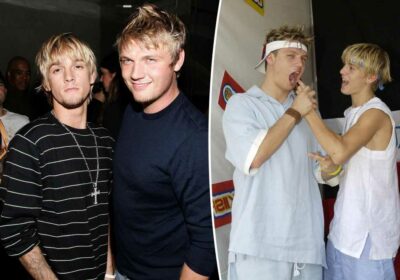 More On:
aaron carter
Aaron Carter's friend details scene of singer's death, final days
Aaron Carter's fiancée Melanie Martin reacts to singer's death: 'I tried everything to help him'
Carrie Ann Inaba reflects on 'DWTS' alum Aaron Carter's 'beautiful heart, light' after death
Aaron Carter 'made amends' with brother Nick before his death: rep
Aaron Carter had an unhealthy "obsession" with his older brother, Nick Carter, and was "crying out" for his love for years, the tragic star's friend told Page Six.
Gary Madatyan — a longtime friend of the "I'm All About You" singer — claimed Aaron often talked about repairing his relationship with the Backstreet Boys singer, right up to his untimely death in a bathtub at his home on Saturday.
Madatyan further alleged Aaron's mental illness had put a lot of strain on the singer's relationships with his family and fiancé, Melanie Martin. Still, he wanted to make amends with the people he had hurt.
"I wish he could have done a little more as a blood relative to Aaron," Madatyan said of Nick. "I'm not judging him. I'm not saying anything bad because I respect him. He's a talented artist. I love him, but Aaron had an obsession with his brother."
He added, "Mentally ill people think differently. He was … pushing, poking to get that attention. Aaron did things he should have never done to his brother, but we're talking about mental health. He was crying out for help."
Despite their estranged relationship, a rep for Aaron said the siblings were "in a good place" before he was found unresponsive at his home in Lancaster, Calif. on Nov. 5.
"He looked up to Nick in so many ways. They were trying to make everything good again," the singer's rep said on Monday.

Aaron "looked up to Nick" even amid their turmoil.
Instagram/nickcarter

Aaron "looked up to Nick" even amid their turmoil.
Getty Images
Stars including Alec Baldwin remember 'super publicist' Bobby Zarem
View Slideshow
Source: Read Full Article