A Tennis Champ, Political Star and the Minds Behind the COVID-19 Vaccines: PEOPLE's Women Changing the World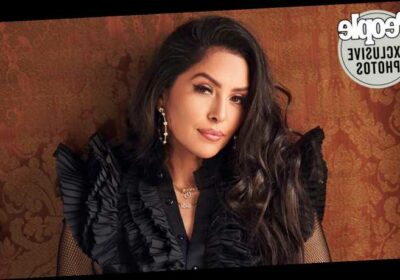 Vanessa Bryant
Bryant, who tragically lost husband Kobe Bryant and their daughter Gianna in 2020, is honoring her loved ones' memories through the newly relaunched Mamba & Mambacita Sports Foundation. The organization is dedicated to creating equal opportunity for underserved athletes and young women in sports. "As with so many industries, women aren't prioritized as athletes," says Vanessa, who serves as president of the board of directors. "We want to provide girls with opportunities to showcase their talent — and to feel just as important as boys do, because they deserve it."
1

of

14
Marisa Hamamoto
Hamamoto grew up as a ballet dancer, but a rare form of stroke left her temporarily paralyzed in 2006. After she walked out of the hospital, she decided she wanted to re-dedicate her life to dance, but in a different way. She discovered wheelchair dance, and in 2015, founded Infinite Flow, a professional dance company that employs both able-bodied dancers and those with disabilities. "We're changing the narrative around disability, around diversity and inclusion, using dance as a way to dismantle stereotypes," she says.  "I know I'm standing up for the right things."
2

of

14
Amanda Gorman
Gorman created one of the biggest moments of the 2021 presidential inauguration when she performed her poem, "The Hill We Climb." And the former National Youth Poet Laureate is just getting started. Considering a political career of her own, she tells PEOPLE, "You have to speak to the world you want to see before you create it." 
3

of

14
Camila Cabello
In January, the singer announced the Healing Justice Project, in partnership with the nonprofit Movement Voter Fund, to provide grants to 10 BIPOC, LGBTQ+ and youth-led organizations to cover six months' worth of mental health support for their workers. "It's awesome to be able to say, 'I need you to take a moment and step back,' " says Gabriella Rodriguez of QLatinx, one of the organizations Cabello helped support. 
4

of

14
Kimberly Ladd
Ladd battled an opioid dependency and later, saw her daughter do the same. Stunned at the lack of resources for people in their position, she founded the Maury County Prevention Coalition, dedicated to providing education and resources for people looking for help. "If we're to prevent substance-use disorder, we have to do it together," she says. 
5

of

14
Stacey Abrams
Abrams' name was everywhere this fall and winter as she helped mobilize 800,000 new voters in Georgia. "It isn't my job to ensure one political ideology is dominant," she says. "It is my job to solve the problems that people face." Her efforts helped spur more necessary conversations about the importance of — and challenges to — voting rights. 
6

of

14
Dr. Kizzmekia Corbett
The viral immunologist, a research fellow at the National Institutes of Health, played a pivotal role in creating the Moderna COVID-19 vaccine, and has been praised by Dr. Anthony Fauci for her efforts in the battle against the pandemic. Now, she's working to show people it's safe to take the vaccines being offered. "It's not my job," she says, "but it is my duty." 
7

of

14
Dr. Katalin Karikó
The senior vice president at BioNTech was one of the people responsible for figuring out how mRNA could be used to create a new category of therapeutic medicine. Her efforts eventually helped Pfizer make the first COVID-19 vaccine using the molecule. "I remember thinking to myself, 'This is it!'" she says.
8

of

14
Dr. Kathrin Jansen
The veteran scientist, head of vaccine research and development at Pfizer, led more than 700 researchers to create the company's COVID-19 vaccine. "I felt an enormous sense of relief," she says of the end result.  
9

of

14
Dr. Lisa Jackson
Jackson, senior investigator at Kaiser Permanente Washington Health Research Institute, led the world's first COVID-19 clinical vaccine trial, enrolling 70,000 participants in the Moderna and Johnson & Johnson trials. Her mantra through the process: "Failure is not an option." 
10

of

14
Naomi Osaka
The tennis champ used her arrivals to the U.S. Open to spotlight Black victims of racial profiling and police brutality, wearing names like Breonna Taylor and George Floyd on her masks each day. "It meant a lot to me that I could carry on their legacies," she says. "I was playing with a different purpose." 
11

of

14
Crystal Echo Hawk
A member of the Pawnee Nation of Oklahoma, Echo Hawk launched IllumiNative, a network of activists and tribal leaders that successfully lobbied for the renaming of the NFL's Washington franchise, among other wins. But, she says of Native American stereotypes, "we have a long way to go to make the public understand the harm."
12

of

14
Sofia Vergara
The actress partnered with Kiva, a nonprofit that distributes crowd-sourced microloans to low-income entrepreneurs, to help small businesses suffering amid the COVID-19 pandemic. To date, they've raised $152 million for business owners. "I knew I had to do something," she says of reaching business owners worldwide, "something that was going to make a difference." 
13

of

14
14

of

14
For more from PEOPLE's Women Changing the World, pick up the latest issue of PEOPLE, on newsstands Friday.
14

of

14

Source: Read Full Article