A succession of worthy detectives unravel Silo's sci-fi mystery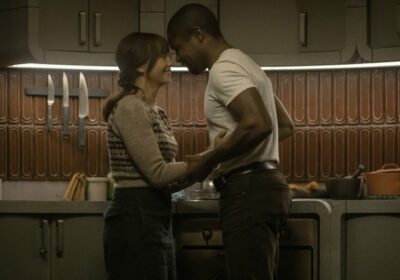 Save articles for later
Add articles to your saved list and come back to them any time.
Silo ★★★★
Apple TV+, Friday
A worthy mystery needs a suitable detective to unravel it and one the many impressive elements of this science-fiction puzzle is that has a succession of them. Set in a self-contained underground city, hundreds of floors deep but shallow in answers, Silo creates a thread of inquisitors: some official and some unlikely, some obsessed and some scared to ask. The way the story passes along their enquiry, with intimacy and genuine understanding, helps make this series resonate in valuable and unforeseen ways.
Rashida Jones and David Oyelowo in Silo.Credit: Apple TV+
The titular structure is a society of approximately 10,000 people, organised for mutual survival in the face of a post-apocalyptic landscape above their heads; the city's death sentence is to be sent outside. It's a strange new world and those who want answers to the existential questions have to overcome the communal belief in sticking together, whether it's IT clerk Allison (Rashida Jones), her sheriff husband Holston (David Oyelowo), and finally, a generator engineer, Juliette (Rebecca Ferguson). Each illuminates the mystery differently.
The drama was adapted from the Steve Howey's series of novels by Graham Yost (Justified), who with lead director Morten Tyldum (The Imitation Game) creates an engrossing world that naturally reveals the lives and limits of the population. Staircases link the Silo – no elevators – and porters run up and down constantly in the background, another noteworthy detail alongside the darned clothes, worn infrastructure, and worrying tilt towards authoritarianism in the name of safety. You pick up traditions, baffling rules, and slang.
With her hum of unease and a seditious tilt of her head, Mission: Impossible and Dune star Ferguson is a compelling, unpredictable investigator – a loner who can fix broken objects but not herself. Because she's from the working-class bottom of the city, the "down deep", her ventures into the "up top" mark her as an outsider. The big questions – who built the silo? Why is there no record of what happened outside? – percolate throughout, but the writing doesn't grind them out.
Rebecca Ferguson and David Oyelowo in Silo.Credit: Apple TV+
One episode is mostly dedicated to a crucial maintenance mission, told with ticking clock tension. It's indicative of the astute storytelling that underpins this vertical Snowpiercer. Life for the most part goes on in the city even as the search for answers becomes ever more intense – this is a long tail narrative, confident enough to give audiences a little insight early on and then let navigate the sharp turns. It's an elegant, immersive puzzle, but also an exploration of the mutual obligations that hold every society together.
Pete Davidson and Joe Pesci in Bupkis.Credit: Heidi Gutman/Peacock
Bupkis ★★★½
Binge
29-years-old sounds young to be making an autobiographical series, but it turns out that Pete Davidson – the Saturday Night Live comic and former boyfriend of Ariana Grande and Kim Kardashian – has plenty to say about himself. In fact, perhaps too much. These 25-minute slices of life about a barely fictionalised Pete Davidson are equal parts celebrity explainer and therapy session, absurdist comedy and earnest dedication.
Co-created by Davidson, Bupkis mirrors his life, from living in his mother's basement to losing firefighter father on 9/11, although his screen mother is played by Edie Falco with Joe Pesci as his ailing grandfather. Davidson is self-deprecating but vulnerable. He's trying to figure himself out on screen. The second episode, a childhood flashback to his aunt's wedding with Bobby Cannavale as the groom, is bittersweet but somewhat baffling.
There are trace elements of Atlanta here, alongside celebrity cameos including an Al Gore and Jon Stewart two-hander, and in a way Davidson is auditioning the audience: are you willing to encompass all the sides of me that I struggle with? There's a certain arrogance in that, but even with the considerable advice dispensed and latent self-obsession, Pete Davidson and Bupkis grow on you.
Priyanka Chopra Jonas in Citadel.
Citadel
Amazon Prime
It may have a Jason Bourne joke, but as reportedly one of the most expensive television shows ever made this spy action-thriller wants to be Bond, Bourne, and beyond. The flaky globe-trotting narrative has Priyanka Chopra Jonas (Quantico) and Richard Madden (Bodyguard) as elite private agents fighting a nefarious organisation to stay alive. The show – in just six episodes – is trying to include everything: massive set-pieces, steamy romance, breathless fun, and save the world angst. The plotting is fantastical, and the leads solid, but the series struggles to rise above the piecemeal.
Secrets of the Elephants
Disney+
Narrated by Natalie Portman with pachyderm expert Dr Paula Kahumbu as the audience's guide, this four-part National Geographic documentary series is a detailed journey into the family life, difficult conditions, and demanding treks that form the life of desert elephants in the African country of Namibia. The production values and breadth of footage is first-rate, with the show taking the time to establish the hardy rhythms and necessary demands of the creature's lives. It's welcome family viewing, but thankfully it's mostly without treacly sentiment or goofy interludes.
Kim Hee-ae in Queenmaker.Credit: Kim Ji-yeon/Netflix
Queenmaker
Netflix
A super-charged Scandal set in South Korea, this close to unhinged political drama follows the unlikely alliance between a lawyer who advocates for the vulnerable, Oh Kyung-sook (Moon So-ri) and the Machiavellian fixer for ruthless family conglomerate, Hwang Do-hee (Kim Hee-ae). When the latter has a crisis of conscience, she recruits the former to run as Seoul's mayor against the nepo baby son of her former boss. The storytelling is expansive and the pacing variable, but the tricks of the fixer trade are highly watchable and the eventual friendship between the two women is genuinely forged.
Race, class, and family converge in Blindspotting.
Blindspotting (season 2)
Stan
The first season of this American comedy-drama about the idiosyncratic bonds and unexpected of a modern blended family – Ashley (Jasmin Cephas-Jones) and her young son have to move in with mother-in-law, Rainey (Helen Hunt), after her partner, Miles (Rafael Casals), is incarcerated – went under the radar. Set in Oakland, it's a timely show about race, class, and family, with the new season continuing to mix raucous humour with hard-won insight. The characters are trying to grow, to do better, but progress is easily derailed. The show never preaches.
Find out the next TV, streaming series and movies to add to your must-sees. Get The Watchlist delivered every Thursday.
Most Viewed in Culture
From our partners
Source: Read Full Article