25 fun Christmas Quiz questions and answers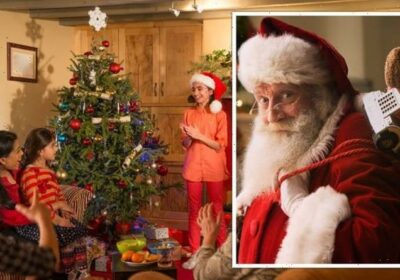 Gogglebox stars get festive with Mariah Carey's Christmas show
We use your sign-up to provide content in ways you've consented to and to improve our understanding of you. This may include adverts from us and 3rd parties based on our understanding. You can unsubscribe at any time. More info
We've got 25 fun Christmas quiz questions for all the family – how many can you get right? There are five rounds of five questions each, with answers below each set of questions. Rounds include Movies, Music, General Knowledge, Christmas by Numbers and Kids.
Christmas movies
Questions:
1 – On his first Christmas at Hogwarts, Harry Potter receives a measly gift from the Dursleys: What is it?
2 – In the film Elf, what is the first rule of the Code of the Elves?
3 – Which former President of the United States makes a cameo in Home Alone 2?
4 – What is the Grinch's dog named?
5 – What is the highest grossing Christmas movie of all time? Choose one: Dr Seuss' The Grinch, Home Alone, or Love Actually.
Answers:
1 – 50p
2 – "Treat every day like Christmas"
3 – Donald Trump
4 – Max
5 – The animated Dr Seuss' The Grinch (2018), raking in $512 million.
General knowledge
Questions:
1 – If you are born on Christmas Day, what is your star sign?
2 – What new tradition for the month of December was invented by American mother and daughter duo Carol Aebersold and Chanda Bell?
3 – What colour was Santa Claus' suit before Coca-Cola decided to dress him in a festive red for an advertising campaign?
4 – In which US state would you find the town Santa Claus?
5 – What festive item was eaten by single women in Tudor times in the hope it would help them find a husband?
Answers:
1 – Capricorn
2 – Elf on the Shelf
3 – Green
4 – Indiana
5 – Gingerbread man
Christmas music
Questions:
1 – In which year did Mariah Carey's 'All I Want For Christmas is You' first make UK Christmas number one?
2 – Which Christmas hit originally released in 1984 has been UK Christmas number one three times?
3 – A Christmas classic by Cliff Richard was the best selling song of 1988 in the UK – what was it?
4 – What Christmas song of 1962 was originally written about the Cuban Missile Crisis, as a call for peace?
5 – In a classic Christmas carol, who is told "may nothing you dismay"? Choose between: Good King Wenceslas, Ye Merry Gentlemen or Three Kings of Orient
DON'T MISS:
Kate and William's different nicknames for daughter Princess Charlotte [UPDATE]
Pippa Middleton's staggering fortune with millionaire husband [INSIGHT]
How to clean windows – the 2 products to use for streak-free windows [TIPS]
Answers:
1 – 2020 – despite originally being released in 1994!
2 – Do They Know It's Christmas by Bob Geldoff and Midge Ure
3 – Mistletoe and Wine
4 – Do You Hear What I Hear? By Bing Crosby
5 – Ye Merry Gentlemen (in God Rest Ye Merry Gentlemen)
Christmas by numbers
Questions:
1 – How tall, approximately, is the Christmas tree at London's Trafalgar Square?
2 – How many times does the number 1 appear on an advent calendar with 24 doors?
3 – How tall is the record-holder for tallest ever snowman?
4 – How many calories are in the average Christmas dinner?
5 – How many Christmas puddings are sold in the UK on average?
Answers:
1 – 20 metres
2 – 13 times, on doors: 1, 10, 11, 12, 13, 14, 15, 16, 17, 18, 19, 21
3 – 113 feet – the snowman was built in Maine, America
4 – 957
5 – 25 million
For kids
Questions:
1 – According to the song 12 Days of Christmas, what bird do you find in a pear tree?
2 – What is the name of Anna and Elsa's kingdom in Frozen?
3 – In what film would you hear the greeting "Merry Christmas, ya filthy animal"?
4 – Traditionally, what does Santa put in the stockings of children on the naughty list?
5 – What treats do you leave out for Santa and his reindeer on Christmas Eve?
Answers:
1 – A partridge
2 – Arendelle
3 – Home Alone
4 – A lump of coal
5 – A carrot, a mince pie and a glass of sherry
Source: Read Full Article