10 revelations from Kelsea Ballerini's post-divorce 'Call Her Daddy' interview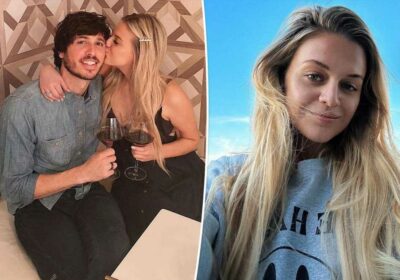 More On:
kelsea ballerini
Morgan Evans slams Kelsea Ballerini for not sharing the 'reality' of their split
Kelsea Ballerini has a cryptic response to those Chase Stokes dating rumors
Kelsea Ballerini, Chase Stokes spark dating rumors
Kelsea Ballerini reacts to wearing same dress as Mackenzie Porter at CMA Awards
Kelsea Ballerini is telling all about her "nasty" divorce from Morgan Evans.
The "Blindsided" singer candidly broke down how her four-year marriage failed in a bombshell-filled interview on the "Call Her Daddy" podcast Tuesday.
Among the many revelations, Ballerini, 29, admitted she never envisioned herself walking down the aisle and has not spoken to Evans, 37, since she filed for divorce last summer.
The country-pop superstar also confirmed for the first time that she is dating "Outer Banks" actor Chase Stokes.
The podcast episode dropped on Spotify shortly after Evans took to social media to respond to Ballerini's new EP, "Rolling Up the Welcome Mat," which was inspired by their separation.
"It's really sad for me to see this person, who I spent so much of my life with, and loved with all my heart, saying things that aren't reality and that leave out what really happened," the "Kiss Somebody" crooner wrote on his Instagram account.
Below, Page Six rounds up 10 of the biggest revelations from Ballerini's "Call Her Daddy" appearance.
Her parents had a "nasty divorce," too
The "Heartfirst" songstress shared that she comes "from a really, really broken family."
"I watched my parents really have a time with [marriage]. They had a nasty divorce," she elaborated. "They still can't really be in the same room."
She didn't want to get married
Ballerini went to Lipscomb University, which is affiliated with the Churches of Christ. She said the Nashville college taught her that she would go to hell if she had premarital sex.
"I had been with one other person before I got married, and it was a really negative sexual experience. And it was in a relationship, but it was just not healthy at all," she shared. "And so the way that I defined sex was very one-sided, very for the man, not a sense of connection at all."
As a result, she felt "shame" going into her marriage to Evans, which "made it really difficult" for them to connect in the bedroom "from the very beginning."
She often slept on the couch
Ballerini confessed she and Evans went through several "separations" during their marriage and had been in couples therapy for years.
"There was, like, many a night of sleeping on the couch," she said before recalling, "I slept on the couch the night before the [2019] CMAs, and I remember I went to rehearsal at the arena and texting him, and him being like, 'I'll see you at the carpet.'"
Ballerini explained that the now-former couple had "such a sense of disconnection," which made her feel "resentful" and "tired."
She "wasn't ready" to have children
The "Homecoming Queen?" singer described disagreeing with Evans over starting a family as the breaking point in their marriage.
"That's a fundamental difference. And I still don't know if I want kids at all or not," she shared. "But that was something that we had talked about early on, and that was something that I was changing on, you know? 'Cause he was ready. He was like, 'I don't want to be an old dad' … and I was like, 'I'm not there yet, and I can't do that to save this and give you something that I'm not ready for. I just can't do that to myself.'"
Ballerini also revealed she wanted to freeze her eggs for her 30th birthday, but when she told her then-husband over dinner, he was upset.
"It was not a good day," she admitted, reiterating that they were "on different pages" about having a baby.
She hasn't spoken to Evans since initiating their divorce
Ballerini said that while she asked Evans for a divorce in August 2022, they already had been quietly separated and living apart at that time.
"I was just really honest [when I told him]," she recalled. "I just said, 'I've loved what this has brought in my life, and I respect you, and I respect me, and because of that, I can no longer be in this marriage.'"
While Ballerini described the conversation as "really beautiful," she added, "I haven't talked to him since. … Everything kind of just shifted. I mean, I'm at peace with it now."
She was "angry" about Evans' divorce song
Evans released a single titled "Over for You" in November 2022, in which he described feeling blindsided by Ballerini's decision to leave him.
"[I was] so angry, so angry. I had a pretty good grasp on my grieving journey until that song came out — and I was livid," she told listeners. "I think that maybe there's a world where he was blindsided; I did not blindside him. I think two things can be true."
Ballerini went on to call the timing of the song's release "really opportunistic" given the duo were still in the midst of their divorce at that point.
"I felt really used in that moment," she continued. "His healing journey is his healing journey. I respect that, but publicly exploiting that feels a little nasty to me before it's final."
She had a prenup
The "Half of My Hometown" songstress divulged that she and Evans had signed a prenuptial agreement, which included language that unexpectedly made her divorce even more complicated.
"He's taking half the house that he didn't pay for. … It was that or alimony," she told host Alexander Cooper. "I was like, 'Give him the house. I want out. Get me out.' [I felt] like s–t."
She slid in Stokes' DMs
While discussing her new romance for the first time publicly, Ballerini revealed she direct-messaged Stokes, 30, on Instagram in December 2022.
"He shoots ['Outer Banks'] in Charleston, and my manager lives there, and he, like, put the bug in my ear. He's like, 'You know who's really cute when you're ready? Chase.' I was like, 'You're so right,'" she recounted. "And I've never seen the show, but I just knew of him. And so I followed him, and he followed me, and I just swan-dove right on in."
She doesn't see herself remarrying
Ballerini said she thinks her marriage to Evans will be her only one.
"I love the idea of partnership. I'm a relationship bitch. But I don't know that I believe in the legality of it all anymore," she explained. "And I think if you want to be with someone, it should be a daily choice."
Share this article:
Source: Read Full Article