When Some Rules Are Meant to Be Broken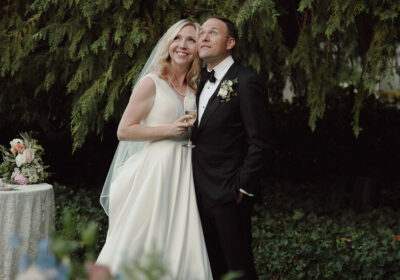 Mary Devon Dietzen thought she knew everyone at the RAND Corporation in Santa Monica, Calif., describing herself as a regular organizer of happy hours and other get-togethers with colleagues. But she didn't know Lance McDonald until he walked into her meeting in October 2017.
"I had never seen him before and had that moment of just being bowled over," she said. She said she thought to herself, "Wow, who is this person? OK! Colleague! Be professional! Put that in a box."
And she did, as she had a strict no-dating-at-the-office policy. She is a digital projects manager, and he was at the time the audiovisual manager at RAND, though he now has the same title at Capital Group, a Los Angeles investment company.
In May 2018, when the two found themselves standing next to each other in the company cafeteria, they chatted a bit and then agreed to sit together for lunch. Ms. Dietzen, who was working full time but was also studying for an M.B.A. at U.C.L.A., jettisoned her customary lunchtime study habit without a second thought.
"We just started talking and suddenly it's not the very, very professional colleague, but a person who is funny and interesting and I wanted to get to know this person more," said Ms. Dietzen, 32, who graduated from the University of California, San Diego.
The conversation moved easily from Mel Brooks films to the contrast between how she grew up (in a Santa Rosa, Calif., Victorian that has been in her family for five generations) and how he did (his father was in the Army, and every year it was a new school, sometimes a new country), to the China patterns that both their families collected.
"We realized we're just a total hit," said Mr. McDonald, who is 39 and whose previous marriage ended in divorce. He graduated from Middle Tennessee State University.
They set a date to go get a beer together about a week and a half later at Chez Jay, a storied bar in Santa Monica. Both were still unclear as to whether this was to be a date or just a social outing with a colleague.
"It was excellent conversation," Mr. McDonald said. They had so much fun that they decided to go to dinner in Malibu, and as they drove up the coast, they had a frank conversation about whether this was a date.
"We got out of the car and the waves were crashing and he kissed me and it was perfect and wonderful and I knew this was the beginning of something special," she said.
"It felt to me like it was important not to be ambiguous about that," he said.
On July 31, outside the house in which she grew up, the two were married before around 20 guests. Kevin Konicek, an uncle of the bride and her godfather, officiated, having become a Universal Life minister for the occasion. The couple had originally planned to be married on Aug. 1, 2020, with about 180 people attending, but postponed because of the pandemic.
Even after their first kiss and their first date, however, the couple's romance still needed a stamp of approval, which Mr. McDonald sought from RAND's human-resources department the morning after the couple's first dinner together.
"Be adults, you're fine," he was told, though RAND doesn't typically encourage interoffice romances.
Ms. Dietzen, who will take her husband's name, was once again bowled over, this time by the gesture.
"It was so romantic," she said, as she cast aside her self-imposed rule about dating colleagues. "It meant so much to me that it was important enough to him to make it official, and do it right."
Source: Read Full Article