We let ChatGPT pick our clothes and the results were… interesting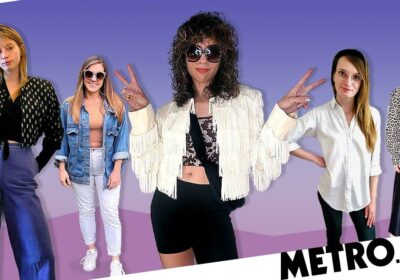 Personal stylists, beware: ChatGPT could be coming for your jobs. But is it any good?
Along with roles like graphic design, writing and research, as AI gets smarter, it has the slightly alarming potential to be able to do our jobs better than we can.
The latest TikTok trend sees people asking the AI bot to select their outfit for the day, in the hopes it'll uncover a magical new wardrobe combination, or at least take the effort out of dressing. 
Videos tagged 'chat gpt fashion' have almost five billion views on the app, with content creators sharing the results of questions such as 'how to style ballet flats' or 'what to wear for brunch.' 
No, the bot can't opine on the exact items you own. Instead, it provides a series of prompts and styling tips for you to interpret at your will. 
Intrigued by the concept, we decided to give it a go for ourselves.
We asked: What should I wear with white mom jeans for a casual look?
ChatGPT said: 'There are several options you can consider when pairing white mom jeans for a casual look. Here are a few ideas:
Verdict: 'I suppose there's nothing wrong with the outfit that ChatGPT suggested for me, but if I'm going to outsource my wardrobe choices to someone (or something) else, I was hoping for a bit more va va voom. It was all just a bit… meh. In the words of one of my gen z colleagues, 'it's dressed you like millennials.' Ouch.
'The advice it gave was fairly inoffensive – combining neutrals with the white jeans, and going for a crop top with a high waist, are solid fashion rules to live by, but there was nothing particularly different or exciting about it. Plus, the response can be interpreted in so many ways: 'opt for a plain crop top' wasn't exactly stellar styling advice.
'I went for a camel toned high neck top, but more intel on style and colour would have been useful. In future, I'll be continuing to pester my friends for their IRL advice.' – Kristina Beanland, Deputy Lifestyle Editor.
We asked: 'What should you wear to work from home?'
ChatGPT said: 'One of the benefits of working from home is that you have more flexibility with what you wear. However, it's important to dress in a way that helps you get into the right mindset for work and feel productive. Here are a few suggestions:
So far, so vague, so I asked for more specific examples of clothing and accessories suitable for working from home.
ChatGPT said:
Verdict: 'It took two attempts, but we got there in the end. My usual work home look is the nearest clean jumper and a pair of leggings, so a white shirt with a black headband and simple necklace felt like a step up.
'Was it an outfit I could have created without a robot? Definitely. But the prompts did encourage me to make a little more effort than usual, which is probably no bad thing for a WFH headspace.' – Rachel Moss, Lifestyle Editor.
We asked: What should I wear to Glastonbury Festival 2023?
ChatGPT said: 'Glastonbury Festival is known for its unpredictable weather, so it's essential to dress for all conditions. Here are some suggestions for what to wear:
Then I asked: Can you give me any more specific examples ? What's trendy right now?
ChatGPT said: Sure, here are some specific examples of what's trendy for festival fashion right now:
1. Tie-dye: Tie-dye is a timeless festival favorite that has made a comeback in recent years. You can find tie-dye shirts, dresses, skirts, and even accessories like hats and bags.
2. Fringe: Fringe is a fun and playful trend that adds movement and texture to your festival outfit. You can find fringe jackets, tops, skirts, and bags.
3. Boho dresses: Boho-style dresses are a staple of festival fashion. These dresses often feature flowy fabrics, intricate prints, and lace detailing.
4. Oversized shirts: Oversized shirts are comfortable and stylish for festivals. You can pair them with shorts or leggings, and they're perfect for layering.
5. Platform shoes: Platform shoes are making a comeback and are a great way to add some height and style to your festival look. They're also comfortable for walking and dancing.
6. Bucket hats: Bucket hats are back in style and are a great way to add some color and personality to your festival outfit.
6. Crop tops: Crop tops are a festival staple that can be paired with high-waisted shorts or skirts. You can find crop tops in a variety of styles, from basic to embellished.
Remember, the most important thing is to wear something that makes you feel comfortable and confident. Don't be afraid to mix and match different styles and trends to create a unique look that reflects your personality.
The verdict: 'At first, I got back a lot of practical tips, but nothing super specific in terms of constructing a good look. With more prompting, it gave me some more fun recommendations, but I couldn't combine all of these suggestions into a single outfit even if I wanted to thanks to the limits of my wardrobe.
'I ended up choosing to incorporate its suggestions of sunnies, a cross-body bag, shorts, a crop top, platform sandals and 'fringe' in the form of a jacket. I liked the look, but it seems ChatGPT hasn't got past the eternal festival dilemma – fashion or function.' – Aidan Milan, Lifestyle Reporter.
We asked: What can I wear to transition from work to drinks?
ChatGPT said: Transitioning from work to drinks requires an outfit that can take you from a professional environment to a more relaxed and social setting. Here are some outfit ideas that could work:
Remember, the key is to strike the right balance between professional and casual, so you feel comfortable and confident in your outfit.
The verdict:  An office to pub outfit can be tricky to pull off. As rightly pointed out by ChatGPT, it has to work in a professional setting and then transition into an environment that is more fun and relaxed.
'Surprisingly, I was impressed by the range of options the AI offered to me, while also being completely freaked out by its sartorial capabilities and knowledge.  Personally, I love a good statement blouse and skirt combo. It allows you to add some personality to an office outfit without moving into an unprofessional territory. I chose a midi faux-leather option and a leopard print shirt with a statement neckline. Using patterns and textures is a good way to liven up office attire. I also added a pair of purple heels for some colour and a pair of hoops for some fun. 
'All in all, ChatGPT's fashion advice is solid. However, I will have to say a big no to adding a statement necklace to any look. It's a very 2010 opinion.' – Edaein O'Connell, Freelance Lifestyle Journalist.
We asked: How can you style corduroy trousers?
ChatGPT said: 'Corduroy trousers are a versatile and stylish item that can be dressed up or down depending on the occasion. Here are some ideas on how to style corduroy trousers:
Overall, corduroy trousers are a versatile item that can be dressed up or down depending on the occasion. Experiment with different outfits and accessories to find a look that works for you.
Verdict: 'Knowing what I had in my closet, I was sceptical when I read ChatGPT's suggestion for mixing corduroy trousers with a blouse, blazer and boots, but I was pleasantly surprised after pulling on these items that I usually style so differently. That's not to say you're going to see me donning a pussybow, tweed and lilac flares combination in the future, but it wasn't bad.
'Some of the suggested pairings – wool and other textures, for example – I actively liked. I'm often stumped when it comes to choosing an outfit in the morning and I plan on using this new, free personal stylist again.' – Jess Austin, First Person and Opinion Editor.
Do you have a story to share?
Get in touch by emailing [email protected].
Source: Read Full Article