Wallis Simpson completely modified her £1.5million emerald engagement ring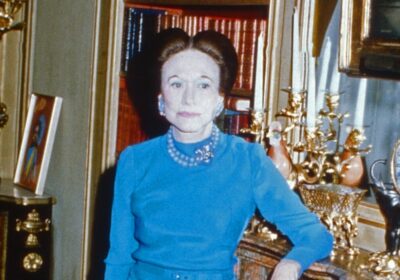 Royal engagement rings always garner a lot of attention, including the jewel belonging to the late Wallis Simpson.
The Duchess of Windsor's engagement ring ended up symbolising a choice between love and duty, which her husband King Edward VIII had to decide.
The former monarch ended up abdicating the throne on December 10, 1936, as he was unable to marry an American divorcée. This was because the Church of England, at the time, did not allow remarriages after divorce.
The Duke of Windsor chose Wallis as his future instead of his British subjects and proposed to her with a gorgeous emerald engagement ring on October 27, 1936.
This decision ended up changing the course of history for an entire country.
The emerald used in Wallis's ring was sourced in the 1930s in Baghdad by Jacques Cartier, a brand loved by the couple.
This jewel, which was the size of a bird's egg, was eventually cut in two and sold separately in the 1930s.
One polished half was sold to an American millionaire. The other, estimated to be 19.77 carats, was chosen by Edward as the centrepiece for an engagement ring for Wallis.
Traditionally, emeralds are not used for engagement rings. This is because compared to diamonds, the stone is soft and can scratch easily.
Don't miss…
Princess Beatrice 'started a trend' at her wedding with £3,066 of jewellery[LATEST]
Queen Rania is 'one of the world's most beautiful women' in £779 green dress[STYLE]
Princess Kate wears 'symbolic' £25,000 jewel to show 'independence' – expert[PICTURES]
But Edward VIII did not feel the need to stick to royal traditions now he was no longer the monarch.
The engagement ring likely had a deep meaning for Wallis, as Edward had engraved the phrase: "We are ours now 27×36" into the jewel.
The numbers refer to the day Edward proposed to Wallis: October 27, 1936. The Duchess's precious stone, representing hope, was a symbol of protection for the marriage.
Interestingly, the date of the couple's engagement came the very next day after Wallis's divorce proceedings from her previous husband began. The divorce was later finalised on May 3, 1937.
In addition, the word "We" in the engraving symbolised Wallis and Edward's initials together.
In 1958, the Duchess's engagement ring was taken back to Cartier to be redesigned with a more modern style consisting of a yellow gold set with several new diamonds.
After Wallis's death, this ring was sold in its 1950s gold and diamond setting for $1.9million (£1.5million) at Sotheby's.
On June 3, 1937, the couple married quietly at the Chateau de Cande in France with their new titles, the Duke and Duchess of Windsor.
Source: Read Full Article