Upgrade your wardrobe with a fringed dress – these are our 11 favourites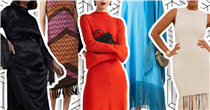 All products on this page have been selected by the editorial team, however Stylist may make commission on some products purchased through affiliate links in this article
Step aside Gatbsy, fringe dresses have been updated for the modern era and in 2022 they're cooler than ever. 
If someone asked you what you thought of fringing, you wouldn't be blamed for saying that flapper dresses from The Great Gatsby immediately spring to mind. Fringing and, in particular, fringed dresses have had a 1920s connotation attached to them for some time. However, almost a century later, designers are working very hard to rid fringing of its costume-associated roots. 
A few seasons ago, Bottega Veneta made chic fringing a key detail in its autumn/winter collection, employing the trend across knitted dresses, shearling coats and even fluffy handbags. While brand-on-the-rise Taller Marmo is known for its fringe-trimmed kaftans that have caught the eye of celebrities including Alexa Chung, Nicole Richie and Lily Allen.  
Understandably, the rest of the industry has followed suit, and today fringe dresses have had a makeover. For 2022, the trend feels decidedly more fashion-forward and often even bohemian. Open-knit fringe dresses look as if they'd be at home over a bikini by the beach, while viscose and jersey iterations feel elevated enough for event dressing, alongside your favourite pair of heels. 
Indeed, 2022 is ushering in a new kind of fringe, and believe us when we tell you that you're going to want in. 
Taller Marmo Mrs Ross fringed crepe kaftan

Taller Marmo fringe dress

Spotted on the likes of Alexa Chung and Nicole Richie, Taller Marmo is undeniably having a moment. The brand is known for its crepe kaftans which are often adorned with fringing or feathers. 

Shop Taller Marmo Mrs Ross fringed crepe kaftan, £860

Buy Now

& Other Stories fringed mock neck midi dress

& Other Stories fringe dress

If we hadn't already seen the website, we'd have assumed this dress was designer. From the striking red colour to the bell sleeves and thick fringe hemline, everything about this dress feels chic and elevated. 

Shop & Other Stories fringed mock neck midi dress, £120

Buy Now

Farai London Keola fringe-trimmed stretch-jersey mini dress

Farai London fringe dress

Farai London's jersey mini dress combines several of this season's coolest trends: fringing and side cut-outs. Here, the trends play off each other as the designer has used the fringing to mask the sections where the cut-outs have been created. 

Shop Farai London Keola fringe-trimmed stretch-jersey mini dress, £165

Buy Now

Na-kd knitted midi fringe dress

Na-kd fringe dress

This dress belongs on a beach. The holiday-ready look would pair perfectly over your swimwear for a day by the water but could equally be dressed up for dinner later. When it comes to your holiday wardrobe, versatility is key. 

Shop Na-kd knitted midi fringe dress, £64

Buy Now

Dodo Bar Or Nia fringed jacquard-knit midi dress

Dodo Bar Or fringe dress

Another fringe dress that feels holiday-worthy, this number by Dodo Bar Or deserves a spot in your carry-on. 

Shop Dodo Bar Or Nia fringed jacquard-knit midi dress, £215

Buy Now
Rare London textured fringe maxi dress

Rare London fringe dress

A slightly different take on fringing, here the detail is centred around the neckline instead of at the hem of the dress to offer a unique twist on the trend. 

Shop Rare London textured fringe maxi dress, £75

Buy Now

Sandro Susanne fringed-trim knitted midi dress

Sandro fringe dress

This is the perfect example of a fringed event dress that feels very fashion-forward. Sandro's knitted midi looks elevated and would make a great option for wedding guest dressing or any other event where you need a little extra effort.

Shop Sandro Susanne fringed-trim knitted midi dress, £223

Buy Now

Asos Design Curve racer front tank midi dress

ASOS Design fringe dress

The exaggerated, long fringing on this dress enhances what could otherwise be a staple item, making it a head-turning, fashion-forward piece. 

Shop Asos Design Curve racer front tank midi dress, £36

Buy Now

Warehouse strappy fringing midi dress

Warehouse fringe dress

On this dress, the fringing acts like a barely-there detail, effortlessly skimming the bottom of the dress to add a little extra flair. 

Shop Warehouse strappy fringing midi dress, £71

Buy Now

River Island Plus fringe detail midi dress

River Island fringe dress

From the sleeves to the hem, River Island has gone all in on the fringe detailing on this dress. It's a winner for your next event. 

Shop River Island Plus fringe detail midi dress, £25

Buy Now

French Connection Sol fringe dress

French Connection fringe dress

By decorating this dress with tassels at the hem, French Connection had added an interesting update to an otherwise minimalist wardrobe staple. 

Shop French Connection Sol fringe dress, £25

Buy Now
Images: courtesy of brands
Source: Read Full Article