Three tiaras Lady Louise Windsor might choose for her diadem debut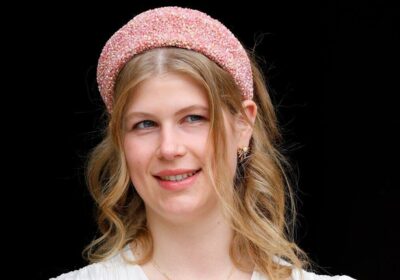 Sophie Wessex's tiara 'caused controversy' reveals expert
We use your sign-up to provide content in ways you've consented to and to improve our understanding of you. This may include adverts from us and 3rd parties based on our understanding. You can unsubscribe at any time. More info
The late Queen tended to lend royal brides a tiara from her personal collection when they tied the knot. But some royals born into the Royal Family have worn tiaras after reaching adulthood rather than waiting for their wedding days, as was the case for Princess Anne and Princess Margaret. As King Charles' niece and the granddaughter of the late Queen, here are four of the royal diadems Lady Louise Windsor could choose to wear for the coronation next May, or her eventual royal wedding.
Anthemion Tiara
An obvious choice for Lady Louise Windsor's diadem debut is the Anthemion Tiara which belongs to her mother Sophie, Countess of Wessex.
Sophie wore it for her tiara debut in 1999 when she married the Queen's youngest son Prince Edward.
While the tiara in its current format was brand new at the time of the royal wedding, it is actually a diadem steeped in history.
The Anthemion Tiara is believed to be comprised of elements from another royal diadem, Queen Victoria's Regal Circlet.
According to Vogue, the tiara earned its name due to its Ancient Greek-style "fanned petals".
The diadem was a gift from the Queen to mark the wedding day, and Sophie has since worn it to several engagements in the UK.
Sophie has also worn it to the weddings of European royals including Crown Prince Frederik and Crown Princess Mary of Denmark, and Crown Princess Victoria and Prince Daniel of Sweden.
DON'T MISS:
Queen's dresser sparked 'dissent in the ranks' over tiara demands [INSIGHT]
Harry 'flew into a rage' after Queen denied Meghan's wedding request [ANALYSIS]
Sarah Ferguson's tiara Beatrice and Eugenie snubbed for weddings [PICTURES]
Aquamarine Necklace Tiara
On a few occasions, the Countess of Wessex has donned a delicate wave-themed tiara with a central oval aquamarine stone.
But the tiara also has transformable qualities, and Sophie previously wore the piece as a necklace to a charity engagement in 2006.
No other royal has been pictured wearing the tiara, so it is thought the Aquamarine Necklace Tiara belongs to Sophie personally rather than being a royal heirloom.
Five Aquamarine Tiara
Sophie, Countess of Wessex appears to be a big fan of aquamarine jewellery, and she has also previously worn the Five Aquamarine Tiara for important occasions.
The tiara belonged to the late Queen, so if Louise decided to wear it for her debut, it would be seen as a sweet tribute to her grandmother.
The tiara comprises five oblong aquamarines set on elegant raised emblems in a 'ribbon' pattern.
Louise's other tiara options
While there are three tiaras currently in Sophie, Countess of Wessex's jewellery box that Lady Louise could choose from, there is also an enormous vault of royal jewellery.
In tribute to her grandmother, whom she was known to be incredibly close to, Lady Louise might opt for a tiara that was beloved by the Queen.
She could pick Queen Mary's Fringe Tiara, the diadem the Queen wore to marry Prince Philip in 1947, or the Cartier Halo Tiara that the Queen was gifted by her parents to mark her 18th birthday.
Many royal women make their tiara debuts with the Cartier Halo including Princess Anne, Princess Margaret and Kate, Princess of Wales.
Source: Read Full Article