They're Here to Save Indie Media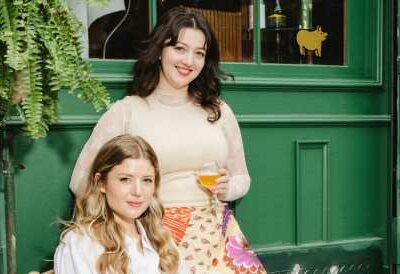 Gutes Guterman sat on an antique French farm bench in Pig Bar, a craft beer shop overlooking the scene-y slice of Lower Manhattan known as Dimes Square. Reaching for a gherkin, her hand in a lacy fingerless glove, she paused to gesture toward the former site of the Drunken Canal newspaper box.
"If you know, you know," she said.
It was a cool spring day, and Ms. Guterman, 26, was here to talk about her latest editorial venture: Byline, a website that went live on Thursday.
But first she had to address the end of her analog publication, The Drunken Canal, a print-only newspaper meant for people who have "made out at Clandestino," as Ms. Guterman put it in a TikTok video, referring to a bar at the center of the scene.
Ms. Guterman and a friend, Claire Banse, started the paper mid-lockdown. During its nearly two-year run, the unmarked box near Seward Park was frequently restocked to meet demand for what became a sort of downtown vade mecum. Cheeky and cryptic, it ran headlines like "Basic Things to Try This Fall (Based on Your Level of Depression)" and "New York Men You Will Ghost — as Chocolates."
The writer Dean Kissick, a contributor to The Drunken Canal, summed up the ethos surrounding the publication in a 2020 tweet: "On 6th street around 11 last night we passed a girl kneeling on her stoop, facing the railings, reading a copy of the Drunken Canal with no socks on."
There were stickers: "Don't read The Drunken Canal. CALL YOUR MOM!" Vogue called it "downtown New York's paper of record for gossip." The Cut said it was an "unfiltered antidote to the careful, conservative vibe" that had become prevalent on the two founders' social media feeds.
"Not being online was important at that time," Ms. Guterman said, contemplating a charcuterie board. "We wanted to make something you could touch at a time when you weren't supposed to touch anything." She paused for prosciutto. "The fact that it was offline was a product of its time, as opposed to, like, a philosophy of living."
The final issue ran in November. In March, the paper told its 17,000 Instagram followers that The Drunken Canal had been part of a sociological study conducted by Harvard University (it wasn't really) and, also, to stay tuned for a sequel (really).
Getting a Byline
"A sequel, but not necessarily Part 2," is how Ms. Guterman described Byline at Pig Bar, a recently opened pub with studded leather floors, cured meats, Amish butter, Sabrett hot dogs, something with quinoa called a Dream Bowl and miscellaneous essentials like Visine eye drops and Camel Blues.
"The Drunken Canal was an amazing thing, but Byline is bigger," she said. "The big sister. No. Not the big sister. An aunt."
Over locally brewed raw honey ale, Ms. Guterman and her Byline co-founder, Megan O'Sullivan, 30, spoke of "creating a universe of content."
The new publication will be "unbridled" and "niche," Ms. Guterman said, giving the example of an article headlined "Monogamy in This Economy?," which proposes polyamory as a financial coping mechanism. Other potential rubrics include "Heel Hunter," an analysis of crowdsourced foot photos, and "Hot Girl Lit," a catalog of "hot writers."
Ms. O'Sullivan broke off a piece of Parmesan and described the void they planned to fill. What young writers need, she said, is "a place that feels informal and fun and champions the individual."
A regular contributor to The Drunken Canal, Ms. O'Sullivan — Texas-born, categorically sweet — credited the paper with jump-starting her freelance writing career at i-D, GQ and Vogue.
"The problem is that the individual still needs a platform to reach people," she said.
Ms. Guterman and Ms. O'Sullivan have assembled an advisory board that includes: Ben Dietz, a former longtime executive at Vice Media; Taj Alavi, the head of marketing at Spotify; and Trevor McFedries, creator of the robot pop star Lil Miquela. Madeline Montoya, an art director at Bloomberg Businessweek, is working as Byline's creative director.
In phone interviews, Ms. Montoya and Mr. Dietz said the site would resist easy categorization.
"It's easy to say it's a digital magazine, but — this sounds silly — I almost don't want to call it anything," Ms. Montoya said. "Everything's on the table."
Mr. Dietz talked about "fungibility," noting that it won't be restricted to text. "Think of a byline metaphorically," he said.
Byline, which shares in the same upstart spirit that gave rise to indie publications of previous generations (think: Spy, Might, Gawker), is making its debut at a terrible time in the digital media business. Millions of dollars from investors looking to cash in on the next big thing could not prevent Vice from filing for bankruptcy last month. Shortly before that, Vox and Insider laid off significant numbers of employees, and BuzzFeed shut down its news division.
"It's harder than ever if you're a young writer today," said Taylor Lorenz, who covers online culture for The Washington Post and has signed on as an adviser for Byline. "If you're starting out, who do you pitch for? There's no one left."
Ms. Lorenz, a former New York Times reporter who is writing a column for Byline, roll-called a number of defunct or diminished sites: "There was this middle ground when I was coming up — xoJane, Jezebel, Rookie Mag, Hello Giggles, Man Repeller — these midlevel media outlets where you could get your feet wet."
"It's all gone," she said, "and no one has built anything to replace it."
Ms. Guterman seemed unfazed. "Byline really feels like right time, right place," she said in a text on the day that Paper magazine laid off its staff and ceased publication. "It's like we're walking into a graveyard and building a bar."
'Love'
The idea of "fun" came up a lot during an April video call with the Byline design team.
"Do we want to have a fun mouse?" Ms. O'Sullivan asked.
Ms. Montoya said the site has enough "hee-hee" elements.
Ms. Guterman wanted the interface to be "sealed with a wink," she said, without being "something you need to wink about." Nothing "too doodle-y," she added, though there should be "some squiggles somewhere."
Chris Oka, a programmer, was asked if it would be possible to "make the hamburger something cuter than a hamburger" ("hamburger" being coder-speak for the navigation menu icon that is traditionally three stacked lines).
"Can it be an actual hamburger?" Ms. Guterman asked.
"I like the idea of, once in a while, you go to a story and it's like … leaning," Ms. Montoya said, sharing her screen with the group to show a visual asset tipping over.
"Love," Ms. O'Sullivan said.
"And you're like … why?" Ms. Montoya explained.
"I love that," Ms. Guterman said.
Mr. Oka suggested tilt-optional settings for users to input desired degree of image crookedness.
Sections needed streamlining. Should "On the Rise" be part of "Culture"? "Libations" gave Ms. O'Sullivan pause. She said, "If 'Libations' is in 'Culture,' and a lot of libation content is New York-based, then the question is: What is 'Culture' versus 'New York'?"
Ms. Guterman parsed it: "'Culture' is when it's, like, 'Absolut Vodka dropped a new flavor!' But 'New York' is when it's, like, 'New hot dog dropped at Parcelle!'"
Byline isn't a site for hard news. Ms. O'Sullivan said, "It's just like: 'Hey, what's up? I woke up this morning.'"
Still, they have standards. Their submission inbox gets "a lot of rambling," Ms. Guterman said.
"Someone will email, 'I want to write about all of my boy troubles,'" she said. "And, well, maybe we don't really care about all your boy troubles." In that case, she said, they encouraged the writer to explore "boy troubles at large."
'Girlboss Juice'
On a hot May afternoon, the co-founders were talking corporate sponsorship over white wine, Diet Coke and mixed nuts at the Chelsea hotel. For now, contributors to Byline will be unpaid, but Ms. Guterman and Ms. O'Sullivan said they had been in talks with possible sponsors including the furniture company Knoll, the astrology app Co-Star and the kink-friendly dating app Feeld.
Wearing an emerald maxi dress and nude Gucci slides, Ms. Guterman clapped her hands. "We had a come-to-Jesus moment," she said. "We got rid of banner ads. I don't want to go on this gorgeous website and see banner ads."
"Eww," said Ms. O'Sullivan, who was wearing a big blazer and wide legged jeans.
The Drunken Canal didn't make money. It did, however, get the nutrition shake company Soylent to pay for a trip to Art Basel in Miami.
"It's kind of a muddled story," Ms. Guterman said of her fleeting relationship with the meal replacement company. "Basically, Claire and I wanted to go to Basel," she continued, referring to Claire Banse, the paper's co-founder. "I was like, 'Let's pretend Tesla flew us out.' Claire was like, 'No, no, let's pretend Soylent flew us out.'"
Soylent struck Ms. Guterman as reachable. "I was like, 'I feel like I could get to Soylent,'" she said. Four hours later, she recalled, she was in a group chat with the company's founder, Rob Rhinehart.
"I said, 'I have an idea for you: Girlboss Juice. Soylent caters to your incel man on a computer, but Claire and I are going to Art Basel. We're not going to have time to eat. We're going to be running around to all these art fairs. We'll shill Soylent as "Girlboss Juice" to a whole new audience that doesn't believe Soylent works, and you'll fly us out to Basel.' They were like, 'We're in.'"
Ms. O'Sullivan chimed in: "It honestly was how I became aware of Soylent."
The untapped market of the Clandestino cognoscenti watched on Instagram as the women chased shots with Soylent at Miami's hottest parties. Ms. Guterman recalled a DM from a friend who said he had started dreaming about Soylent.
"Synergy," Ms. Guterman said, is key. "The future of advertising is letting creatives be creative."
She also noted that she didn't want Byline to be "so digital." To keep the clunky charm of print and the deadline rush that she knew from her Drunken Canal experience, Byline will come out in "drops" — a big dispatch at the top of the month, followed by weekly "trickles."
Issue 1 has 75 contributors from Seoul to San Diego ranging in age from 12 to 40-something. An article highlighted on the home page, written by Ms. Guterman, is headlined "Who Builds the Internet? Meet Wikipedia's Architects." Other pieces include a story on the rise of the selfie by Ms. Lorenz, and an installment of the Teenage Diaries column, "You Went to Prom, and Heaven Knows You're Miserable Now."
In search of child writers before the debut, Byline asked on Instagram: "Is your kid a genius?" Alas, Henry Jones, who turned 12 this week, is writing the column "Give the People What They Want." The title, he said, comes from the 1997 movie "Tomorrow Never Dies." It's what James Bond says before killing the bad guy with a petroleum drill. The line is apt for Byline "because the villain was like a big old media mogul," Henry explained in a phone interview, "so … yeah."
Because of an editing error, the media executive Ben Dietz was misidentified in an earlier version of this article. Mr. Dietz was formerly the chief strategy officer at the livestream shopping site NTWRK. He does not work there now.
How we handle corrections
Source: Read Full Article