The Viral TikTok Butt Crack Leggings Are Selling Out, But These 10 Are Still in Stock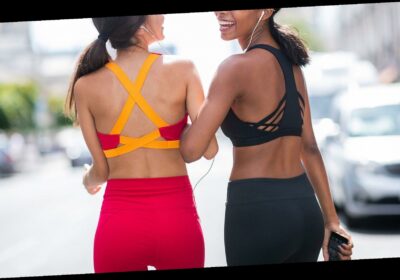 There's a leggings craze happening now that would make Meghan Trainor *very* happy, because it's quite literally all about that bass. 
What started with some viral TikToks about a pair of bottoms now dubbed "The Amazon Leggings," has turned into a full-blown Social Media Moment. Everywhere you look, from Tracey Anderon Facebook ads, to influencer photoshoots, to your kid's after-school pick-up line (take a look next time), you'll see someone in a pair of butt crack leggings.
If you somehow missed the trend, the butt-scrunching style of leggings each come with a seam straight down the middle to perfectly align with your butt crack. It sounds a bit odd in writing, but IRL, they're simply some seriously flattering spandex. 
Shop now: $26; amazon.com
"Just from the front they shape pretty nice, they give your hips some nice definition and then from the side… damn," TikTok user @autumnnightx said while reviewing a pair. "I mean, I'm pretty convinced."
Now that the style is a bonafide hit, more and more pairs have shown up on Amazon's Movers and Shakers chart, which shows the best-selling items in real time. This of course means that some of the most popular pairs are starting to sell out. So is life. 
Butt (ha), there are still some top-rated styles available, including one pair that's garnering some serious social media love. 
"I told myself that I would never buy anything that TikTok told me to buy and guess what? I played myself," user @brookemorrissss said while modeling these leggings. "They make me look good. I look good. Ladies, do me a favor and buy the leggings… because you be looking like this."
Shop now: $25–$30; amazon.com
Below, you can shop some more top-rated booty-boosting leggings that are somehow still in stock on Amazon. Just don't forget to press play on that Meghan Trainor track while doing so. 
Shop now: $20–$26; amazon.com
Shop now: $18–$23; amazon.com
Shop now: $6–$24; amazon.com
Shop now: $17–$29; amazon.com
Shop now: $22; amazon.com
Shop now: $20–$27; amazon.com
Shop now: $20–$26; amazon.com
Shop now: $13–$28; amazon.com
Source: Read Full Article