The latest viral dress breaking the internet has people struggling to work out what's going on – can you figure it out? | The Sun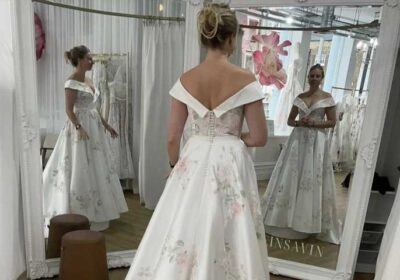 A NEW dress is causing a storm on the Internet, with people left scratching their heads as to what's going on.
Tessa took to Instagram to share a picture of herself trying on a wedding dress, while searching for the perfect ensemble for her big day.
The image showed her wearing the dress while standing on a small podium.
"I went wedding dress shopping and the fabric of reality crumbled," Tessa wrote alongside the picture on her Wheat Pray Love Instagram page.
"This is a real photo, not photoshopped, not a pano, not a Live Photo.
"If you can't see the problem, please keep looking and then you won't be able to unsee it.
Read more Optical Illusions
IT'S A HOOT
You have the eyes of a hawk if you spot the hidden owl in less than 10 seconds
EARN YOUR STRIPES
You have 20/20 vision if you can spot the 4 cats hidden among the tigers
"Please enjoy this glitch in the matrix/photo that me nearly vomit in the street.
"Also, I'm engaged!"
While some people struggled to see what the issue was, others spotted it at first glance.
The picture showed Tessa from the back – with one arm across her body and one down by her side.
Most read in Fabulous
LIFE CHANGE
Single mum living on £59 a week bursts into tears after millionaire helps her
Bright idea
I hate getting my grubby socks white again but a £1.70 hack has changed my life
Money matters
I budgeted £100 each for my kids' Xmas gifts – trolls say they 'have nothing'
FAUX PAS
I'm an elegance expert – 10 things you shouldn't buy if you want to look stylish
However, the image of her in the mirror in front of her showed her with her hands clasped in front of her.
And the mirror to the side of her showed Tessa with both of her arms down.
A video was shared on the Scroll Deep TikTok page, with the poster asking: "Can you see what's wrong with this picture?
"This is the new viral dress that is driving the internet absolutely nuts.
"Here it is. Two entirely different reflections, three realities in one go.
"What is the explanation? I think possibly something to do with a ghost or a Dracula.
"Also, if you're like a scientist and you have a scientific explanation, please enlighten us."
While some people in the comments section were baffled by the image, others claimed they knew just what was going on.
"It's the shutter speed plus the light bouncing from mirror to mirror to camera," one wrote.
"Add in the fact that smartphones capture multiple frames in one image."
"I'm not a scientist but I know a bit about cameras/photography and phone cam shutter speed is slower to capture more detail so I bet it has something," another said.
"This isn't about shutter speed as the photo would be blurry," a third argued.
"It's more likely to do with image bracketing where the camera takes multiple photos."
Read More on The Sun
Money matters
I budgeted £100 each for my kids' Xmas gifts – trolls say they 'have nothing'
KEEPING WARM
Full list of cold weather payments to help you through the winter
"It's a shutter speed thing, but could definitely be a basis for a cool doppelgänger horror story," someone else commented.
"Also the dress is 6/10."
Source: Read Full Article