Stylist shares 'simple' style tip to 'look younger instantly'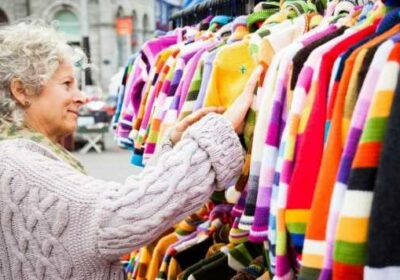 Miranda Holder on secrets to looking young instantly
We use your sign-up to provide content in ways you've consented to and to improve our understanding of you. This may include adverts from us and 3rd parties based on our understanding. You can unsubscribe at any time. More info
Miranda Holder is a celebrity stylist and fashion expert. Taking to social media, she revealed how women can make their "skin look more radiant", as well as reduce the appearance of fine lines and wrinkles, by following just one simple tip – free of charge.
In a video on her Instagram, Miranda explained that the simplest way to look younger "straight away" is to choose the right coloured clothes while getting dressed.
She said: "What if I told you you could look younger straight away? Your eyes sparklier, skin more radiant, and fine lines and wrinkles diminished?
"The good news is that with this simple style hack, you actually can. It' simply by wearing the right colour.
"Get the colour right and it will take years off you."
Wearing the wrong colour can cause your complexion to look "ruddy or sallow", Miranda noted.
"Dark circles under your eyes will be more obvious, and fine lines or wrinkles will be exaggerated, and you'll just look more tired," she added.
"I always tell clients it's really useful to know which are your best colours, but it's actually more important to know which are your worst ones.
"The first thing to do is to establish whether you are warm toned or cool toned. You can do this easily at home yourself with a couple of simple tests."
Knowing if you're cool toned or warm toned can lead to miracles when it comes to not only clothes, but make-up too, according to Bobbi Brown make-up artist Aimee Morrison.
Speaking to Good Housekeeping, Aimee explained that the skin's undertone is "the permanent, underlying colour that your skin tone casts – cool, warm or neutral", while the skin tone is "the colour you see on the surface of your skin – fair, light, medium, olive, dark or deep". Miranda was referring to the skin's undertone.
Aimee went on to explain how different undertones may appear in different skin. Cool undertones appear pink/blue in a fair skin and moving into medium and deep skin tones can appear purple/red.
Warm undertones appear yellow in a fair/light-medium skin and can appear more peachy/golden in medium-dark/deep skin tones.
Neutral undertones have a mix of both cool and warm tones and olive tones are usually seen.
To discover what your undertone is, you need to look at the veins inside of your wrist. Do they appear more blue or green? If your veins appear more blue, you're cool-toned, but if you see more green, you're warm-toned. If you see a fair amount of both both green and blue, you have a neutral undertone.
Aimee continued: "Another great undertone test is to wear a white T-shirt or dress. If your skin looks a touch rosy, think cool-toned. If your face looks more yellow, think warm-toned, and if you don't really see a change, most definitely think neutral-tones."
Another way is to think about how your skin reacts when it's in the sun. "If you turn pink or burn easily in the sun, you likely have a cool undertone," Aimee said.
View this post on Instagram

A post shared by Miranda Holder • Feel Good Fashion, Beauty & Lifestyle (@themirandaholder)
"If you tan easily and go golden quick, you will have a warm undertone, and if you burn a little but tan too you most likely have a neutral undertone."
Now you've found out your undertone, it's time to find the colours that suit you best. People with warm undertones usually look good in earth tones, such as yellows, oranges, red and olive-green.
Meanwhile, people with cool undertones should opt for jewel tones, such as blues, emerald greens and purples.
Wearing the colours that complement your skin the best can make you appear younger and healthier, according to Miranda.
Source: Read Full Article