'She nails it': Sophie Wessex turns heads in 'quintessential British' £275 Me+Em blazer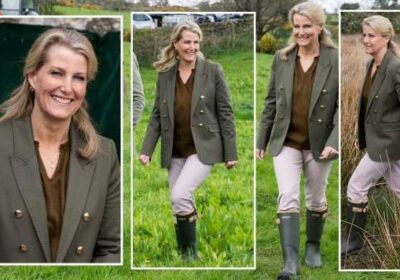 Sophie Wessex: Experts discuss Queen's view on royal
We use your sign-up to provide content in ways you've consented to and to improve our understanding of you. This may include adverts from us and 3rd parties based on our understanding. You can unsubscribe at any time. More info
Sophie Wessex, 57, has her feet firmly back on the ground in the UK after a very interesting royal tour to the Caribbean. After Sophie and Prince Edward's Caribbean tour received some criticism due to not apologising for the Royal Family's historical part to play in colonialism, the Countess of Wessex is now back in the UK. On Wednesday, Sophie visited Shallowford Farm, a farm school that works with young people living in challenging circumstances.
The farm school teaches those young people practical farming skills in Newton Abbot.
For the event, Sophie wore a Me + Em satin cotton 'AM-PM' blazer in light khaki.
The chic blazer retails for a whopping £275.
According to the website, it "adds a polished finish to your chosen look".
The description reads: "In satined cotton, it has a subtle, lustrous sheen that contrasts against the Italian gold-toned buttons adorning the narrow double-breasted front."
Sophie paired this blazer with Ariat International Burford waterproof rubber boots.
These new shoes were olive green in colour and cost an outstanding £125.
The Countess' pick of footwear was appropriate for visiting a farm, as the website said they "offer sturdy and stylish resistance to drizzles and downpours alike".
However, the reviews on the website for the boots average at 2.3 out of five stars.
One customer wrote a less than an impressed review, saying: "Won't last longer than six months."
Sophie accessorised with a Felt London Jewellery diamond slice pendant necklace, which she wore constantly during her royal tour to the Caribbean.
The diamond piece sells for £275, and according to the Felt website, this necklace is their "signature" jewel.
The description reads: "This necklace comes with a nine-carat gold trace chain, which is 18 inches long and can be shortened with a 16-inch brake."
Royal fans took to social media to praise the Countess' countryside style.
Instagram user @mog1717 said: "Quintessential British country look.
"She nails it."
Another royal fan, @sabrina_hala_ added: "Out in nature in the magnificent countryside for Countess Sophie."
Twitter user @MarieLa95775377 wrote: "That seems to be the sensible way to dress in the countryside, and on the farm as fields can be muddy so it would be no good wearing shoes with heels."
Another royal watcher @marshav14 commented: "How wonderful to see them!
"Back to work already!"
Source: Read Full Article