Queen Letizia of Spain's 'super cute shorts' cost just £8 – 'love her style so much!'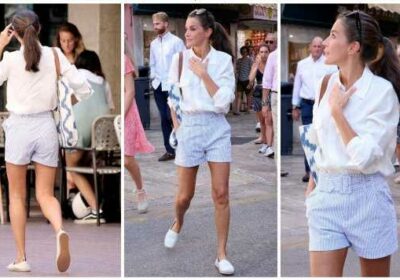 Queen Letizia of Spain, 49, stepped out in Majorca on Wednesday wearing a stunning pair of shorts that only cost £8. The shorts were from a French brand called Pimkie and are blue with white pinstripes. The Spanish monarch paired the shorts with a simple white shirt blouse.
What accessories did Letizia have?
Queen Letizia carried a Feel Mallorcs Ikat tote bag, which cost 69 Euros, or roughly £58.
The description on the website says: "Blue and white ikat tote bag with leather handles.
"We know that you also care about security, so in addition to being very practical and comfortable, we have added a zipper to our Tote so that you can close your belongings and keep your privacy from prying eyes."
We use your sign-up to provide content in ways you've consented to and to improve our understanding of you. This may include adverts from us and 3rd parties based on our understanding. You can unsubscribe at any time. More info
The tote bag was blue and white with brown leather handles.
Letizia also accessorised with a pair of Carolina Herrera chunky round frame sunglasses that cost a whopping 189 Euros, or roughly £159.
The description on the website says: "Black chunky round-frame sunglasses from Carolina Herrera featuring round frame, oversize frame, grey tinted lenses and curved arms."
For footwear, the Queen wore a new pair of BOSS logo espadrilles with Jute Sole.
These cost £129, with the online description saying: "Elegant espadrilles for summery styling by BOSS.
"Featuring canvas uppers with a large logo at the vamp, these espadrilles are set on a jute sole with a rubber base.
"The heel counter is trimmed with a signature-stripe loop."
Royal fans took to social media to praise Letizia's style.
Instagram user @tarrynsteyn said: "Letizia is so chic. I love her style so much."
Similarly, @birdnerd327 added: "These are super cute shorts."
Another fan, @betsomo commented: "Letizia looks terrific in these bargain-buy shorts."
Meanwhile, Letizia's eldest daughter Princess Leonor, 16, stepped out wearing her strawberry pink floral print 'Mallorca' dress from Mango.
Leonor wore this dress a lot last summer in 2021 and it is currently on sale for just £10.99.
On the other hand, Infanta Sofia, 15, wore a new short tropical dress from Sfera that retailed for £16.99.
Both the Spanish Princesses wore Java34 espadrilles, however, Leonor wore beige shoes whilst Sofia opted for black.
Royal fan @seugnet777 wrote on Instagram: "They are all so beautiful! Lovely style on all of them!"
Source: Read Full Article