Queen Camilla wears specific jewel to ooze 'elegance'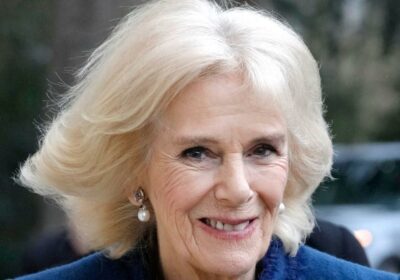 Since she was a huge fashion icon, it is no surprise that other royals continue to emulate the style of the late Queen Elizabeth II, including Queen Camilla. The late monarch was rarely seen without her three-stringed pearl necklace, as well as a simple pair of pearl earrings. Camilla, too, often wears pearls.
For her latest public appearance, and first since recovering from Covid, Camilla donned a pair of dangling pearl earrings.
This was for a reception at Clarence House for authors, members of the literary community and representatives of literacy charities to celebrate the second anniversary of The Reading Room on Thursday, February 23.
The Queen has many pearl earrings in her collection, as well as pearl necklaces. She has been seen wearing a chunky necklace with just one string of pearls, as well as a multi-stringed pearl choker.
These pearls are reminiscent of the jewels the late monarch wore. But the royal tradition of wearing pearls dates back to Ancient Egypt, according to an expert.
Arseniy Budrevich, founder of Budrevich Fine Jewellery Studio, told Express.co.uk that pearls "have been associated with class, elegance and sophistication since the Ptolemaic dynasty in ancient Egypt, where the Royal Family wore pearls to show their status".
He continued: "This tradition was then passed down through the holy Roman empire to the French monarchs who carried it into fashion in the middle ages, where it was subsequently dispersed through Europe. This is when the British empire picked up the style."
The Royal Family wears pearls "to represent the aristocratic virtues of liberality, magnificence and generosity", according to Arseniy. Interestingly, they also symbolise "purity and chastity".
DON'T MISS:
Keep bananas yellow and firm for 3 weeks with clever storage method [GUIDE]
Aldi Wine Club is offering customers free wine [APPLY]
Beauty fans praise £7 'Botox' cream that 'smooths skin' in two weeks [COMMENT]
Alexandra Michell, gemologist at Prestige Pawnbrokers, agreed that pearls go back generations of royals.
She said: "Throughout history, pearls were revered as the oldest and rarest gemstone. Difficult to find and only worn by the powerful and wealthy, these were considered priceless treasures.
"There was even a law passed by Caesar making the gem exclusive to aristocrats, and a pair of pearls financed an entire military campaign.
"Today, they are often still considered as a jewel of the rich due to their past. Although far more accessible now, with cultured or imitation pearls, they still hold on to their quality for their subtle beauty and simplistic look – less is more."
Pearls are often associated with royalty because they were, at certain points in history, "the most valuable gem in existence".
"They were hard to find and even harder to fish, as fishing them involved diving to dangerous depths on just a breath of air," Alexandra explained.
"Fashions have played a part in their popularity, but in general, natural pearls have always been a high value item.
"For example, Marie-Antoinette's pearl and diamond pendant which sold at Sotheby's in 2018 for nearly £30million. Or La Pelegrina, which was discovered in the 16th century, made its way throughout history in royal hands and was finally gifted to Elizabeth Taylor in 1969 by Richard Burton.
"Eventually, La Pelegrina was sold at Christie's in 2011 for nearly £10million.
"These natural saltwater pearls still remain extremely rare and can be worth up to 20 times more than the best cultured pearls.
"However, they are not more valuable than other gemstones such as diamonds, emeralds, rubies or sapphires. The reason being is that their demand is low – they are not as popular as the latter these days, and so their value has dipped."
Alexandra added that Queen Elizabeth II wore pearls to "continue the tradition" as her mother, grandmother, and great-grandmother did the same. Perhaps Camilla too is attempting to uphold tradition.
Source: Read Full Article