PSA: This Amazon Line Is Stocked with Designer-Inspired Handbags Starting at $30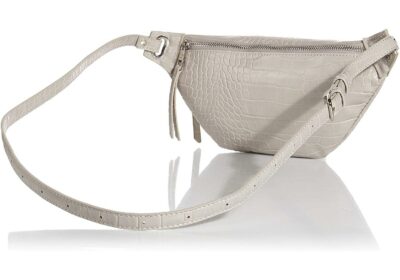 If your Instagram feed has you dreaming of owning a designer bag, but it's just not in the cards for you right now, Amazon's in-house label The Drop has you covered. The trendy brand has tons of designer-inspired handbags, and they start at $30.
From trendy belt bags to versatile totes to statement crossbodies, The Drop's selection of purses has something for every style and occasion. Keep scrolling through to check out 10 of the best designer-inspired bags available on Amazon, all under $50.
Shop Designer-Inspired The Drop Handbags on Amazon
Preston Belt Bag, $29.90
Southampton Zipper Foldover Clutch, $29.90
Avalon Shopper Tote Bag, $39.90
Francesca Croissant Pouch Bag, $39.90
Diana Top Handle Crossbody Bag, $39.90
@lucyswhims Satin Knotted Handle Bag, $39.90
Melanie Baguette Bag, $39.90
Nora Belt and Crossbody Bag, $39.90
Janelle Gathered Shoulder Bag, $49.90
Hillary Transport Tote Bag, $49.90
While you may still think of fanny packs as nerdy parent bags, we're here to tell you that influencers and celebrities have made them cool again. Khloe Kardashian posted a photo recently with a Chanel bag around her waist, and Hailey Bieber was spotted in Los Angeles a few months ago wearing a Prada belt bag as a crossbody. If these designer bags aren't in your budget, consider this $30 faux-leather belt bag from The Drop instead.
The trendy bag has a zipper top closure, zippered pockets both on the outside and inside, and an adjustable strap. "This bag feels and looks designer," one reviewer wrote. "Not knowing how long this trend will last, I feel much better with this awesome Amazon find. The fit and style is just right."
Buy It! The Drop Preston Belt Bag, $29.90; amazon.com
Pouch bags, and particularly the Bottega Veneta one, are another accessory taking over the fashion world. Everyone from Hailey Bieber to Olivia Culpo to Shay Mitchell has been seen out and about carrying this "it" bag. Luckily, The Drop has a $40 option that shoppers call a "perfect dupe for designer croissant bags."
The affordable version comes in six colors, including neutrals like black and beige, and bolder picks like bright red and leopard print. It's made from supple faux-leather with a magnetic top closure and interior zippered pocket. You can either wear the versatile bag as a clutch or a crossbody purse.
Buy It! The Drop Francesca Croissant Pouch Bag, $39.90; amazon.com
A third handbag trend you've probably seen all over social media is the '90s-inspired shoulder bag. In the past few weeks, Kaia Gerber has been wearing a Celine shoulder bag nonstop in both black and camel. The Drop makes a purse in a similar shape, and it can be yours for $40.
Available in black, mahogany, and teal green, this faux-leather bag has a croc-embossed texture, brass hardware, and a zipper closure with an interior pocket. "It's soft and feels like real leather, not stiff or plasticky," one reviewer wrote. "It's just big enough to fit my wallet, phone, and keys — no extra junk that I don't need anyway."
Buy It! The Drop Melanie Baguette Bag, $39.90; amazon.com
Below you'll find even more designer-inspired handbags for affordable prices from Amazon's The Drop.
Buy It! The Drop Southampton Zipper Foldover Clutch, $29.90; amazon.com
Buy It! The Drop Avalon Shopper Tote Bag, $39.90; amazon.com
Buy It! The Drop Diana Top Handle Crossbody Bag, $39.90; amazon.com
Buy It! The Drop @lucyswhims Satin Knotted Handle Bag, $39.90; amazon.com
Buy It! The Drop Nora Belt and Crossbody Bag, $39.90; amazon.com
Buy It! The Drop Janelle Gathered Shoulder Bag, $49.90; amazon.com
Buy It! The Drop Hillary Transport Tote Bag, $49.90; amazon.com

Source: Read Full Article