Princess Kate causes Coronation hair to surge online – how to achieve her updo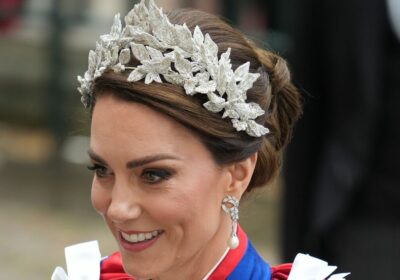 Kate, Princess of Wales stunned the British public with her chic updo on May 6. The intricate braided bun has spiked interest with searches for "Kate Middleton's Coronation hair" up by 600 percent in the last seven days.
Kate's immaculate royal blowout with lots of bouncy curls is usually her go-to look, and has been since she became a member of the Royal Family.
But for this important occasion, the Princess switched it up and chose a timeless braided bun with a floral headpiece.
Hair expert Laura Elliott, the head of education at Neal & Wolf, spoke to Express.co.uk to explain a simple tutorial for royal fans to follow to achieve Kate's hair.
She said: "To achieve this look volume and texture are key. Apply a styling product to get your desired look.
"This could be a mousse, hair gel, or hairspray depending on your hair type and texture.
The expert also explained that combing the hair beforehand is vital, which will make the entire process much quicker.
Ms Elliott explained: "Before creating the updo ensure your hair is fully detangled, this will help to make the braiding process easier."
According to Ms Elliott, the trick to achieving Kate's bun is with a plait – a hairstyle that most Britons will be able to do.
Don't miss…
George, Charlotte and Louis live in a four-bedroom home in Windsor[LATEST]
Kate dons £129 blue shirt and Charlotte wears £299 Ralph Lauren jumper[STYLE]
Fans claim 'poor' Prince George looks 'trussed up' wearing £20 tie[PICTURES]
She suggested: "Divide your hair into three sections and create a simple braid starting from the nape of your neck.
"Then wrap these around the base of your ponytail, creating the intricate bun.
"Secure in place with grips or elastics making sure to hide the ends of the braids."
Ms Elliott claimed that fans who wish to achieve a more "messy bun" look should "loosen" bits of the hair.
She explained: "If you're wanting a more relaxed updo gently loosen the braided sections. This helps to make the style more effortless.
"Finish by spraying a fix and hold hairspray to keep the plaited bun in place."
On a global scale, Kate's large, bouncy blow-dry is one of the most recognised haircuts.
The world has been enamoured with Kate's brunette hairstyle ever since she began dating Prince William back at St Andrew's University.
Kate's hair as a child showed that she always sported long brunette hair.
Pictures from her youth showed the Princess of Wales even had wispy bangs at one point, usually pushed back in a ponytail during a hockey match which she loved to play.
The Princess's hair remained largely unchanged until 2010 when her engagement to the Prince of Wales was announced.
Kate's hair suddenly appeared perfectly glossy with lots of bouncy curls and layers, a hair-do which would become her signature style.
Source: Read Full Article