Pottery Barn's $79 Halloween decor was so pretty but too pricey – I made my own using Dollar Tree and Amazon buys | The Sun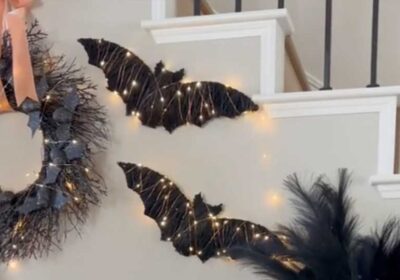 MANY homeowners have started to put up spooky decorations as they eagerly count down the days to Halloween.
One DIY-savvy woman has revealed that it isn't necessary to splurge on expensive pieces as she transformed a budget buy into luxury homeware. 
Aurelie (@aurelie.erikson) boasts almost 95,000 followers on TikTok, where she shares her love of home decor and the holidays.
She took to the social media platform to share her attempt at making a cheap decoration from Dollar Tree look like a pricey Pottery Barn bat.
A viral voiceover said: "Imagine the day they see you again and you're just well… better."
At first, the tinsel bat decorations, which were only available in-store at Dollar Tree, looked very childish with goofy faces and colorful bodies. 
Aurelie showed the tedious process of wrapping a thick weaving fiber around each of the bats to create the illusion of being professionally woven.
She then added a string of fairy lights to the bats after taking inspiration from the lit woven bats sold by Pottery Barn for $79.
The DIY bats went perfectly with her fall decor which also included black pumpkins, spiders, and creepy skeletons.
She captioned the post: "These light-up Pottery Barn bats are so pretty but they're pricey and sold out, so using Dollar Tree bats."
Most read in Lifestyle
FERGIE'S AGONY
Heartbreak for Man Utd legend Sir Alex Ferguson as wife Cathy dies age 84
'KIDNAP PLOT'
35-stone security guard in court charged with Holly 'murder plot'
HOLLY KIDNAP PLOT
Holly Willoughby under guard after man is arrested over 'kidnap plot'
ALLY ROSS
Alex Beresford full of himself? Celebrity Race Across The World proves he is
She included the hashtags #HalloweenDIY, #Dollartreecrafts, and #Halloweenhome.
Aurelie said: "I removed ALL the tinsel first and then just wrapped the base with jute."
Black jute or twine can be bought from Amazon for just $8.99.
The video went viral with over 1.3 million views, 118,000 likes, and thousands of comments from people thanking her for sharing the idea.
One person wrote: "Such a cute idea! Where did you get this twine/black cord?"
Another commented: "I'm never going to stay out the Dollar Tree seeing this good idea. I need to get a hold of myself I love creating."
A third said: "These look way more expensive than the first photo."
A fourth chimed in: "I am tempted to try it with pink jute for my Barbie-themed Halloween."
Another added: "I'm sold. I'm gonna do this tomorrow."
The hack came after another TikToker bought a plastic pumpkin from Lowe for $10 in an attempt to transform it into a Pottery Barn dupe.
Pottery Barn was selling a set of three Terracotta jack o'lanterns for around $218.
Brie repainted Lowe's shiny plastic pumpkin with a mix of orange, brown, and white paint combined with baking soda. 
Read More on The Sun
CAUGHT ON KARMA
Thief stole my £2k camera from beach – then wrote to tell me it was karma
Epic fail
I'm Queen of being a s**t mum and forgot my kid when I went to Tesco
She was delighted with the finished results which could trick anyone into thinking they were expensive ceramics.
"Went so much better than I thought! I used colors – pumpkin orange, real brown, and white," she said.

Source: Read Full Article