Only people with eagle eyes can spot the ostrich hidden among the geese in 10 seconds, so will you be one of them? | The Sun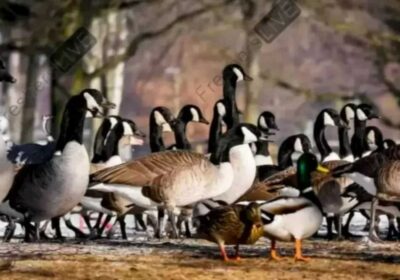 DO you reckon you have above-average skills when it comes to being observant?
A new bird-themed puzzle is challenging people to spot the hidden ostrich in a photograph.
What makes the challenge harder is that there is a gaggle of geese and the odd duck filling the shot.
You'll have to be eagle-eyed to spot the long-necked ostrich hiding in the scene.
If you want to push yourself, see if you can find the missing bird in just 10 seconds.
And don't panic if you can't find it.
More on puzzles
You're in the top 5% if you can spot the owl & frog in these brain teasers
You have 20/20 vision if you find the silver disco ballsin 10 seconds
We've shared the answer below if you really get stuck.
If you want a clue, then try looking on the left hand-side of the photo and look very closely.
This could test even the most keen-eyed bird watchers among internet users.
The brainteaser was shared online by FreshersLive as a way to stretch your brain this weekend.
Most read in Fabulous
MEG A CHANGE
Meghan Markle officially ditches podcast after £18m Spotify deal fell through
MYSTIC MEG
A moon of deep communication means you can talk about what really matters
ROYAL SNUB
Harry rejected offer to spend anniversary of Queen's death with dad Charles
FROCK NO
I was stunned by the bride's friend's 'tacky' dress, people 'would kick her out'
Why not test your vision with an even trickier puzzle by trying to spot the soccer ball in under a minute?
Or, why not try spotting the dog treats in the park?

Source: Read Full Article