Meghan Markle stepped out wearing same outfit as Wallis Simpson – but one 'wore it better'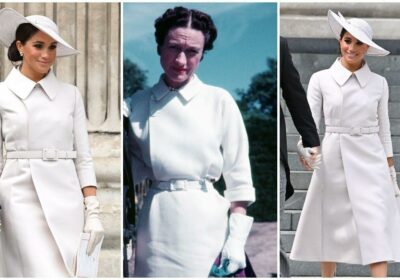 Queen's Jubilee: Harry and Meghan arrive at Thanksgiving service
We use your sign-up to provide content in ways you've consented to and to improve our understanding of you. This may include adverts from us and 3rd parties based on our understanding. You can unsubscribe at any time. More info
Meghan Markle, 41, arrived back in the UK for the Queen's Platinum Jubilee celebrations. The Duchess of Sussex arrived at St Paul's Cathedral wearing a bespoke Dior white belted haute couture coat dress. Meghan paired this with a brand new matching hat from the same brand.
What shoes did the Duchess of Sussex wear?
Meghan paired her Dior white outfit with shoes, also from Dior.
The Duchess opted for a pair of bespoke D-Moi bone suede pump shoes.
These shoes cost a whopping £590.
How did Meghan accessorise?
She made a sweet tribute to her late mother-in-law, Princess Diana, by wearing her Cartier 'Love' yellow gold bracelet.
The Duchess also wore her Snowflake Snowstorm diamond earrings.
They are from Maison Birks and Meghan was last seen wearing them in 2018.
However, the Duchess was not the only royal to have worn this coat dress.
Wallis Simpson, the late wife of King Edward VIII, who abdicated the throne in 1936, also wore an identical coat dress back in the 1950s.
The Duchess of Windsor (as Wallis was known) and the former King left the UK to live in France after Edward was not allowed to be the monarch and marry an American divorcee simultaneously.
It is unknown whether Meghan definitely drew inspiration from Wallis' dress coat, but the two items are almost identical.
But in 1951, Wallis posed for pictures at a villa in Biarritz, wearing a coat dress identical to Meghan's Dior version.
It had the same white collar and matching belt.
However, the Duchess of Windsor was wearing a coat dress from a collaboration by Givenchy and Balenciaga.
Givenchy started his own design house in 1952 but began his own line of designs in 1951.
He was deeply inspired by Cristobal Balenciaga at that time and loved the clean lines of his designs.
Royal fans took to Twitter to debate who they thought wore the coat dress best.
Twitter user @RoccoHowat1 said: "Wallis wore it better."
Another fan, @dagmar_Marie77 added: "Wallis hardly ever looked like a mess.
"The woman knew fashion."
Source: Read Full Article