Lilibet could inherit six items from Diana's jewellery collection worth over £700,000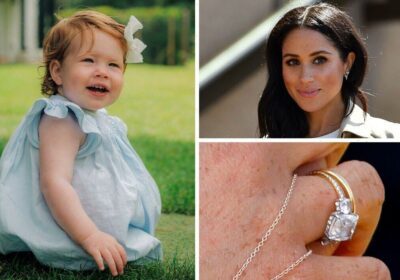 William and Kate 'in photo battle with Lilibet' says host
We use your sign-up to provide content in ways you've consented to and to improve our understanding of you. This may include adverts from us and 3rd parties based on our understanding. You can unsubscribe at any time. More info
Prince Harry and Meghan Markle are besotted by their two children Archie and Lilibet Mountbatten-Windsor, and Harry said in a recent interview he feels his late mother's presence "in almost everything" that he does. The Duke and Duchess of Sussex keep Princess Diana's memory alive in many ways, and Meghan famously pays tribute to her by wearing some of her iconic jewellery for important occasions. As their only daughter, Lilibet will likely inherit many of these precious pieces in the future.
Daniel O'Farrell, Founder, Bespoke Jeweller and Diamond Expert at DC Jewellery, told Express.co.uk: "It is hard to ascertain which heirlooms Lilibet could inherit, apart from the pieces that already exist in Harry and Meghan's collection.
"To the best of public knowledge, Meghan has inherited Diana's dainty gold butterfly studs encrusted with diamonds and blue stones that Princess Di wore on a trip to Canada in 1986.
"Meghan has also inherited Diana's gold and cabochon sapphire cuff worth more than £20,000, a Cartier diamond tennis bracelet worth more than £17,000 and Diana's famous Cartier Tank watch worth more than £17,000 when it was gifted to her for her 21st birthday.
"The Cartier Tank watch is one of Diana's most coveted heirlooms, which was originally allocated to Prince William who swapped it for Diana's sapphire engagement ring that was originally allocated to Prince Harry. It would be worth more than £500,000 today."
Mr O'Farrell also highlighted Meghan's engagement ring, which features stones from Princess Diana's collection, is likely worth a six-figure sum.
He said: "[Meghan's] gold engagement ring designed by Prince Harry is very special indeed, because its central diamond, sourced by Harry from Botswana, is flanked on both sides by two smaller diamonds from her late mother-in-law Princess Diana's own collection.
"Prince Harry's heartwarming purpose behind the stones was so that his mother could always be present with them on their 'crazy journey together'.
"A ring of such priceless significance is worth more than £120,000."
Meghan also owns Diana's famous aquamarine ring which she used to wear after her divorce from Prince Charles was finalised in 1996.
Mr O'Farrell added: "Meghan wore Diana's iconic aquamarine ring as her 'something blue' to her wedding reception in 2018.
"Designed by Asprey, the ring is set in 24-carat gold and features a massive emerald-cut aquamarine of potentially more than 30 carats, flanked by smaller solitaire diamonds.
"This priceless heirloom that matched Princess Diana's eyes is well worth more than £75,000."
DON'T MISS:
Meghan and Harry warned 'the Firm wins' if new Oprah chat goes ahead [ANALYSIS]
Prince Charles and Camilla's wedding – 4 things you might not know [INSIGHT]
Prince Charles school: Where future King went to school and alumni [EXPLAINED]
In total, these six items from Diana's collection that Meghan has been pictured wearing over the years could be valued in excess of £700,000. And as Prince Harry and Meghan's only daughter and the late Diana's granddaughter, Lilibet may one day inherit the hugely sentimental jewels.
Lilibet's cousin Princess Charlotte, the only daughter of Prince William and Kate, Duchess of Cambridge, is also likely to inherit many of Diana's jewels that Kate often wears.
Kate wears Diana's famous sapphire engagement ring and has also been spotted wearing her sapphire earrings, pearl earrings and three-strand pearl bracelet over the years.
The Spencer Tiara, which belongs to Diana's family, was also a firm favourite of the Princess' and she wore it for her royal wedding in 1981. In the future, Lilibet and Charlotte may get the opportunity to wear the stunning diadem themselves.
Source: Read Full Article