Letizia samples masculine and feminine styles for latest engagement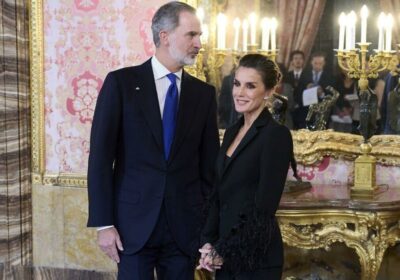 We use your sign-up to provide content in ways you've consented to and to improve our understanding of you. This may include adverts from us and 3rd parties based on our understanding. You can unsubscribe at any time. More info
Spanish Queen Letizia rarely puts a foot wrong when it comes to style, and her meeting with participants of the annual session of the NATO Parliamentary Assembly was yet another fashion victory.
The stylish Spanish Queen opted for all-black, going for a smart monochrome suit when she stepped out this week.
The suit style is a historically masculine look the Queen has pulled off before, rocking a pinstripe number just last month.
For her most recent engagement, Letizia added some flamboyance and femininity with some feathery detail on her sleeves.
The suit was very flattering in cut, highlighting the Queen's slim frame.
The V-neckline of the blazer was low, unveiling a simple black blouse or vest, in keeping with the idea that royals typically dress modestly.
The shoulders were structured while the material nipped in at Letizia's waist, creating an hourglass figure.
Meanwhile, the trousers were straight cut and fell to just above the ankles.
The feather detail on the sleeves, from the elbow to the cuffs, was certainly the statement of the piece.
It added some fun to an otherwise smart, highly professional ensemble.
The feathers, which boasted the odd sparkly bead, added some dimension to the blazer, and created a peplum effect.
The Spanish Queen wore some incredible shoes, sheer slingback sandals with black panels across the toes.
As for accessories, Letizia kept these to a minimum, wearing a simple pair of earrings and one statement ring.
Her earrings were ear climbers, appearing to be in the shape of a silver leaf.
Unsurprisingly, Letizia also wore her Karen Hallam Signature Ring, which has become synonymous with the monarch over time as she is barely ever spotted without it.
This is available in different materials, including sterling silver, gold-plated silver and solid gold, ranging from £95.48 to £954.84.
As for hair, Letizia worked the androgynous look once more, wearing her long hair slicked back into a bun.
She added some height with a slight quiff at the top of her head, giving her hair some extra volume.
The bun was secured at the centre of the back of her head, and looked to be a plait fashioned into a bun.
Her makeup was glamorous and added a pop of colour to an otherwise all-black look.
Letizia's makeup included a light foundation, touch of highlight and bronzer, with a smokey dark pink eye and pink lipstick.
Source: Read Full Article