Kate Middleton wears £160 Barbour jacket and bobble hat in new video about mental health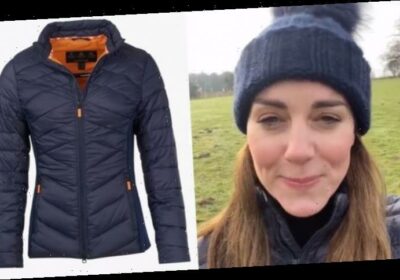 Kate Middleton shares support for Children's Mental Health Week
Kate Middleton, 39, is seen wearing a warm bobble hat and coat in a new video, posted today on the Duke and Duchess of Cambridge's Twitter account.
Kate seems to have decided to film the video while going for a walk, either in a field or in the gardens of Amner Hall in Norfolk.
She is wearing a blue two-tone bobble hat.
The front of the hat – which rests on her forehead – is a navy-blue, while the upper part of the hat is a lighter and paler blue.
A fluffy purplish-blue pom-pom sits at the top of the hat.
We will use your email address only for sending you newsletters. Please see our Privacy Notice for details of your data protection rights.
The Duchess wears a quilted Barbour coat to match her hat.
The jacket is a £160 piece, the Barbour "Longshore" quilted jacket.
It is also a purplish-blue, except for its zip, which is a light orange.
This bobble hat and coat combination is the ideal winter outfit – perfect for our short daily walks.
DON'T MISS:
Kate Middleton-approved Norland Nanny parenting tips include important weekend rule [EXPERT]
Kate Middleton steps 'away from tradition' with 'gentle' parenting techniques [INSIGHT]
Kate stops walk to take first royal selfie as fans celebrate 'our beautiful future queen' [ROYAL NEWS]
It seems that Kate's exact coat is an older style and no longer available on the Barbour website.
However, similar blue quilted jackets are on sale, with prices ranging from around £100 to £200.
Some coats are discounted in the winter sale.
It is not clear where Kate's bobble hat is from, but there are plenty of similar versions on the market.
Barbour also has a bobble hat on sale, but the material is a chunkier knit and comes in a dark red, a pale pink, or a bright baby blue.
A cheaper equivalent to the Barbour bobble hat is available at Accessorize.com, and although the material again does not match that of Kate's hat, its deep blue colour is more similar.
Apart from the hat and the coat, Kate wears a black turtleneck – seen underneath her jacket.
The Duchess' make-up is natural, with only a little bronzer to accentuate and warm her cheekbones, as well as a few strokes of mascara to emphasise her already dark and long eyelashes.
Her hazelnut-coloured hair is in its naturally straight form and falls neatly on her shoulders.
In the selfie-style video, Kate talks about the importance of prioritising our mental health during what can be a tough time for everyone during lockdown.
It comes just before Children's Mental Health Week, which begins tomorrow.
"Whilst this is Children's Mental Health Week, there has never been a more important time to talk about parental wellbeing and mental health too," says Kate.
The Duchess adds: "This is a hugely challenging time for us all."
Source: Read Full Article