Kate Middleton Once Again Proves That a Floral-Printed Face Mask Is a Must-Have Accessory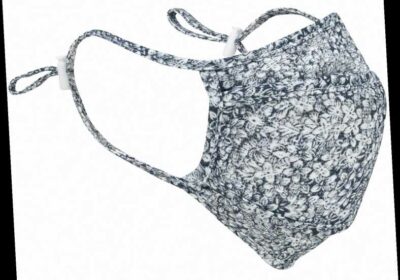 Kate Middleton has never been one to shy away from wearing prints and patterns. From her classic tartan scarf and matching skirt to her whimsical printed dresses, it seems the Duchess of Cambridge loves to have fun with her fashion choices. One print she's worn on various occasions and in a myriad of styles over the years is florals. Most recently, Kate has been wearing the print in the form of a protective face mask.
In honor of her 39th birthday, @kensingtonroyal (the Duke and Duchess's official Instagram account) recently posted a gorgeous photo of Kate wearing a white-and-navy floral face mask, thanking followers for their kind birthday wishes.
Of course, Kate's botanical-printed face mask expertly matches her cream-colored sweater, pearl earrings, and navy coat and gloves, proving once again that wearing a protective face mask can be functional and stylish. And because Kate reigns when it comes to all things style, we naturally want to wear a navy-and-white floral-printed face covering, too.
With the Centers for Disease Control continuing to recommend the use of face masks to help slow the spread of coronavirus, we went ahead and found nine pretty lookalike styles inspired by Kate's cloth face mask that start at just $9. From this $12 reversible face covering from Etsy to a three-pack of adorable floral-print styles for just $15 available at Amazon, these floral-printed face masks are an easy (and affordable!) way to copy Kate's look while protecting yourself and others.
Scroll down to shop nine Kate Middleton-inspired reusable floral-printed face masks now.
Buy It! Ililily Cotton Floral Patterned Face Mask in Navy, $13.99; amazon.com
Buy It! Free People Adult Face Mask & Scrunchie Bow Set, $20; nordstrom.com
Buy It! MaudiKBride Handmade Washable Liberty Print Face Mask, $8.49; etsy.com
Buy It! Pale Male Box Adjustable Cloth Face Mask 3-Pack, $20; amazon.com
Buy It! TinsleyCraftDesign White and Navy Floral Mask, $8.47; etsy.com
Buy It! Con.Struct Machine Washable Unisex Cotton Pleated Face Mask Set in Assorted Lilac Liberty Floral, $14.99; amazon.com
Buy It! GlamYouCo Aesthetic Reversible Blue and White Floral Balloon Face Mask, $12; etsy.com
Buy It! Monte Assorted 3-Pack Adult Upcycled Pleated Face Masks, $35; nordstrom.com
Buy It! LolaPiperShop Liberty of London Adult Face Mask, $14; etsy.com
Do you love a good deal? Sign up for PEOPLE's Shopping newsletter to stay up-to-date on the latest sales, plus celebrity fashion, home décor and more.

Source: Read Full Article