Jonathan Simkhai RTW Fall 2021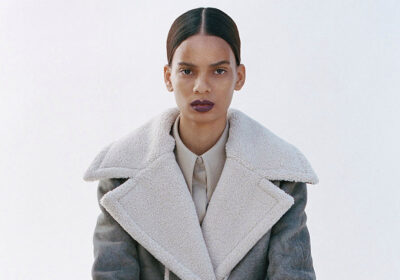 Los Angeles designer Jonathan Simkhai leaned into handcraft this season, creating a custom lace cleverly inspired by Pop Art artist Keith Haring's infinite maze paintings; working crochet fringe into suede; playing with Peruvian hand knits, made-in-Brooklyn sculptural gold chain hardware and more, to offer "some of the human interaction we're all missing through clothes."
The look: Modern bohemian.
Quote of note: "It's a balance between a return to dressing for in-person events and clothes you can live in and wear day-to-day," Simkhai said. "And more than ever, it's about thinking about all the demographics — warmer climate, colder climate, you really need the whole world to come together to have a business right now."
Jonathan Simkhai RTW Fall 2021
27 Photos
Standout pieces: Chocolate suede and crochet fringe tunic; cream crepe dress with chain-link trimmed waist cutout and handkerchief hem; interesting knits, including a red crew neck sweater with collarbone cutouts, chunky mélange knit sweater with fringing on the sleeves, and a sheer cashmere sweater dress with bralette; white vegan leather and chiffon inset pleated column dress; blanket stripe poncho; fringed camel melton wool blazer; cream Haring-inspired maze lace dress.
Takeaway: Focusing less on event dressing and more separates seemed to liberate Simhkai, and the handcrafted touches added warmth and a covetable tactility to his aesthetic.
Source: Read Full Article