Jill Biden matches husband in blue and white as she arrives in Britain ahead of G7 Summit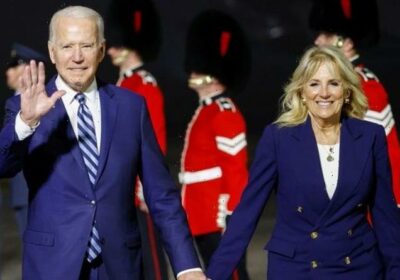 Joe Biden arrives in the UK for G7 summit
When you subscribe we will use the information you provide to send you these newsletters. Sometimes they'll include recommendations for other related newsletters or services we offer. Our Privacy Notice explains more about how we use your data, and your rights. You can unsubscribe at any time.
The G7 (Group of Seven) Summit is an organisation made up of the world's seven largest so-called advanced economies. This year is the meeting's 47th edition and it will take place this weekend at the Carbis Bay Hotel in Cornwall.
Jill and Joe Biden arrived in the UK last night ahead of the G7 Summit, which starts today.
The US president's plane, Air Force One, landed at RAF Mildenhall in Suffolk.
Mr and Mrs Biden were smiling and waving at the large crowd waiting for them as they got off the plane.
The crowd was mostly made up of US Air Force personnel and their families, who President Biden then addressed.
Mr and Mrs Biden then flew to Newquay, Cornwall, before travelling on to Tregenna Castle in Carbis Bay.
The American couple looked smart in matching blue blazers and Mrs Biden wore a white dress while the president wore a white shirt.
Mrs Biden wore a dark blue Ralph Lauren blazer with big gold buttons and pockets at the front.
The blazer was low cut and had an open collar, showing Mrs Biden's white dress underneath.
The First Lady's dress was sleeveless and mid-length, reaching her knees.
It was perfectly cut, fitting not too tight and not too baggy.
The dress was by American fashion designer Michael Kors, perhaps demonstrating Mrs Biden's patriotism for her country as Ralph Lauren is also an American fashion designer.
The blue and white colour theme of both Mrs and Mr Biden's outfits added to the American symbolism as the hues represent the US flag.
Mrs Biden wore her smart ensemble with a pair of navy-blue suede heels by Marion Parke.
Marion Parke is an American-based footwear brand and Mrs Biden's shoes are called the 'Must Have 86' which cost $495, or £360.
As for jewellery, Mrs Biden seemed to be wearing three gold necklaces.
One of them seemed to be her 'Mama' necklace, which is a short gold chain with the words 'Mama' on it encrusted in diamonds.
Mrs Biden is evidently a fan of necklaces as she has many unique jewels, including one sentimental and highly personal necklace which has two coin-shaped personalised gold pendats hanging from the chain.
One pendant is marked with the word 'Beau' which refers to the American couple's son, Beau Biden, who served in the National Guard before dying from cancer in 2015.
The other pendant is engraved with the words 'Obama Biden' in reference to the Obama-Biden Administration from 2009 to 2017.
Arriving in the UK last night, Mrs Biden wore gold circular earrings and her blonde hair was tousled in stylish waves.
Source: Read Full Article