I'm plus-size with DDD boobs – I found the best bikini top for busty women at Walmart, it holds everything | The Sun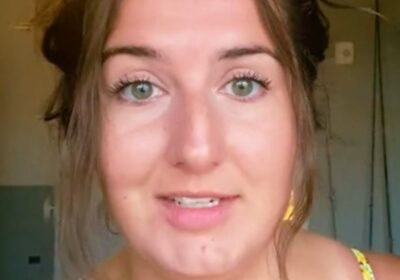 A SAVVY shopper flagged her favorite bikini top to other Walmart customers.
It's a supportive, comfy, and cute option for plus-size fashionistas – and it's affordable, too.
Since she lives in Florida, Laura Huddleston (@laurahuddleston83) knows the value of good swimwear.
In a video, she reviewed her favorite bargain find and encouraged her followers to snap it up while supplies last.
"I finally found a bikini top for my DDDs that looks good, feels good, and is affordable," she wrote in the video's description.
Huddleston went so far as to call it "the best bikini top for busty women."
At most stores, she said: "It's impossible to find a good bathing suit top."
But when she was prepping for a pool party, her local Walmart's selection surprised her.
"I want to explain why I love this so much," she said before singing the bathing suit's praises.
The scooped top isn't normally a style she'd choose, but it doesn't have any side spillage or show too much cleavage.
Most read in Fashion
Mae Muller breaks her silence after UK's humiliating Eurovision defeat
Mae in humiliating Eurovision defeat as Sweden win but fans claim 'fix'
Holly Willoughby 'cuts ties' with Phillip Schofield after 15-year friendship
Huge TV host lined up as Dancing on Ice replacement for Phillip Schofield
It's got a supportive underwire and perhaps most importantly, Huddleston said the bikini top doesn't tie over the neck.
Most of the time, a neck-tie bikini is just uncomfortable for her DDD chest, adding: "It hurts, it's too heavy. Tt's too much."
But the magic Walmart find has none of those problems.
Huddleston stood up, revealing the floral print piece that sent the swimsuit over the top.
"I'm really happy about it," she said proudly. "I have been looking and looking and looking, and I got it at Walmart."
Huddleston didn't provide a link to shop online, but based on the ditsy print and the underwire, it looked like a Time and Tru style that sells for $20.98.
The supportive suit also gave Huddleston the gift of mobility – something other bikinis couldn't provide.
"It holds everything. You can literally run," she said.
"It's the best bathing suit top I've ever had," Huddleston confessed. "All my friends know I'm obsessed with it."
And she wasn't just going to sing its praises at the pool, either.
Read More on The Sun
Mae Muller breaks her silence after UK's humiliating Eurovision defeat
Jack Whitehall and model girlfriend Roxy Horner are expecting first child
She wanted every woman with a large chest to know a comfy solution to their summer woes existed.
Huddleston dedicated her review to "other women who feel uncomfortable at the pool as me because everything is always spilling out."
Source: Read Full Article