I'm a veterinarian – a great day at work can be ruined by a certain warning in some dogs' charts | The Sun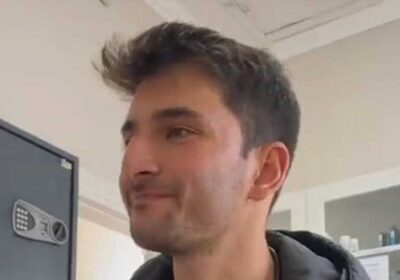 A VETERINARIAN has revealed his workday can be ruined by the unpredictable temperament of some dogs.
He arrived in his clinic bright-eyed and bushy-tailed ready for a day treating an array of animal ailments.
But the smile quickly slipped from his face when he saw his appointment book.
After scanning through his patients for the day one particular client struck horror into the heart of this animal lover.
Amir Anwary (@amirthevet) chronicles the daily routine in his life as a vet on his TikTok.
It has proved to be popular, gathering a following of over 314,000.
In this post, he proves a vet's life isn't just about cute kittens and loveable dogs.
Sitting at his desk, he smiled as he checked appointments for the day on his computer, but the mood changed as he moved down the list.
"When I'm having a great day at work but my next patient is a [Cane Corso]."
His face suddenly dropped. Amir's grin was replaced with a grimace.
Most read in Lifestyle
BRIEF FLING
Rhian Sugden breaks silence on dating Russell Brand after star accused of rape
NEW GIGG
Giggs closes in on return to management as Man Utd legends consider SOS call
EX ON THE BEACH
Man City ace Kyle Walker buys his ex Lauryn Goodman 'massive' £2.5m mansion
TANGO AND PASH
Strictly couple can't keep hands off each other leaving crew feeling awkward
The Italian Mastiff was going to be a tricky customer judging by its patient records.
Its demeanors listed everything a vet would prefer not to see.
"Muzzle necessary. Aggressive. Caution. Anxious. Unfriendly. Dislikes men."
"My Monday is going great," he said sardonically.
His post has been liked 182,000 times and many of the commenters felt his pain.
"We all love the 85kg Cane Corse that is begging to chew our arms off. My absolute favorite dogs in the clinic," was the sarcastic refrain from one person.
But there was at least one fan: "I also got a Cane Corso and my vet is absolutely in love with him, he is a sweetheart."
The majority, however, were not in the Italian Mastiff camp: "Cane Corseo. RIP bro," wrote this person dramatically.
READ MORE SUN STORIES
I 'quit' MAFS but producers talked me round… I'd no idea it'd be so toxic
We're fuming over 'ridiculous' parking bays – you can only fit a toddler's bike
Another said: "Had to allergy test two Cane Corso siblings. Surprised to this day that I survived, lol."
This person would not go near them: "The demeanours would make me nervous, but given it's a Cane Corso mastiff I would cry."

Source: Read Full Article