I'm a stylist and always warn women not to buy certain pieces – sleeveless jackets are a total waste of cash for a start | The Sun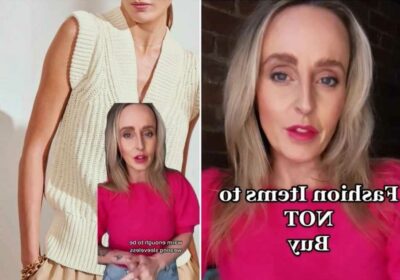 HAVE you ever had the feeling that you have nothing to wear even though you have a wardrobe full of clothes?
Turns out you might just be buying the wrong clothes. 
One fashion stylist says if you're buying certain clothes in stores you're setting yourself up to fail when putting together an outfit. 
Dawn Anna Williams broke down the fashion items she always tells women not to buy.
She said: "These are the fashion items I would recommend that you not buy, they will stay in your wardrobe hanging there forever never being worn, they are just too problematic."
Dawn's first no go is a sleeveless coat. 
She said: "The faux fur gilet, the sleeveless long tailored vest and outerwear that has not sleeves forget it."
The stylist says the reason for her not recommending the garment is because it simply not practical to wear across seasons. 
She said: "Think about it like this: if it's warm enough not to wear sleeved it is far too warm to be wearing the coat, it means you've got a layer underneath it and that just causes so many problems for people who are not fashion savvy."
Dawn says the same concept applies to sleeveless knitwear 
Most read in Fabulous
Shoppers go wild for Primark's cheap new organising cubes
Kate has royal fans in stitches over cheeky moment with William at Baftas
I have big boobs – people don't understand how hard they are to live with
I'm 53 with big boobs – cute bralettes are meant to be seen, even on busty gals
"On the same theme stay clear of sleeveless knitwear because you're not going to wear it when it is warm enough to be wearing sleeveless and you're not gonna layer it underneath your coat in the winter."
The next item Dawn says should not be in your wardrobe is scratchy knitwear. 
FABULOUS BINGO: Get a £20 bonus & 30 free spins when you spend £10 today
She said: "If you try a knit on and it irritates you in any way do not buy it. That sweater will stay in your closet gathering dust forever."
Next dresses with elasticated waistbands but not because they feel bad or are difficult to layer clothes with but because they simply don't look good. 
Dawn said: "This one is my bug bear's elasticated waistbands, specifically very thin elastic waistbands. They flatter no one, they do not give you a waistband. While they may feel comfortable, your silhouette is not tailored and overall you will look bigger."
Dawn says steer clear of skirts without a structured waistband.
She said: "Do not buy skirts that do not have a structured waistband, your waistband needs to hit you on your bottom ribs."
Dawn says summer style items with winter fabrics have no purpose.
She said: "A perfect example of this would be a knitted sleeveless dress or summer dresses with too much heavy fabric and a neckline; it's an item that has no specific and defined purpose."

Source: Read Full Article