I'm a pro gardener and you're watering your plants all wrong – you're basically boiling them alive | The Sun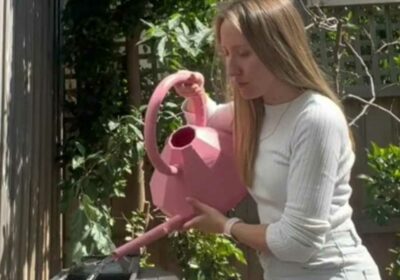 A WOMAN who loves gardening above all else has shared the common mistakes she sees beginners make. 
Kia Jade, who describes herself as an urban gardener, took to her social media to share a clip with the list of blunders people often make and what to do instead. 
Dressed in a pair of light blue jeans and a grey top, she walked around her garden to water a variety of plants as she spoke. 
"Common mistakes beginner gardeners make when it comes to watering their garden," she said. 
Kia then tackled the first issue on the list, which is the topic of when to water plants during the day.
She said: "If you are watering a garden early morning or late afternoon, congratulations you're doing it right. 
READ MORE GARDENING STORIES
My three essential gardening jobs you must do now – they're all completely free
Woman hits back at trolls who tried to stop her from painting garden fences black
"If you're doing it in the middle of the day in the hot sun, you could be boiling your plants alive." 
She then zoomed in on a dead leaf in the middle of the soil, over which she placed three dying of heat emojis. 
@kia_urbangardener went on to warn people against watering their garden too often. 
She said: "If the soil is dry or your plants are droopy like this, your plant is thirsty," she explained as the camera panned over a green plant with leaves that faced the ground. 
Most read in Fabulous
That face you keep thinking about can mean much more to you in the future
People are only just realising what wine gums are REALLY made of
I got a throat tattoo in the hope it would hide my double chin… I was wrong
I found most perfect wedding guest dress ever in H&M, it's dream summer colour
However, TikTok user Kia said that if the soil is "really moist" people should refrain from adding more water. 
Third on her list is when people water the base of the plant. 
"Don't water the leaves as this can actually cause disease in your plants," she said. 
And for her final point, she said: "Make sure to water your compost every now and then to keep the compost nice and moist.
"This is really important for breaking down the microorganism." 
People were quick to comment on her video as one person shared another tip by saying: "Mulching would really help to keep the soil moist so less watering needed". 
Kia replied: "Yess that's a great gardening tip!" [sic] 
Another person confessed: "Not me making every single one of these mistakes lmao," [sic] to which the woman responded: "I only know this because I used to make all these mistakes earlier on. It's all a learning process". 
And a third said: "My grandad said if you touch the soil and don't get dirty fingers it's too dry," which Kia agreed with. 
Source: Read Full Article