I'm a pregnant mum but the school run's a breeze – four rules I stick & the 25p hack that's a game changer | The Sun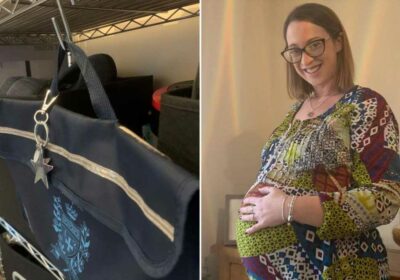 MANAGING the school run can be difficult at the best of times.
But if you're pregnant, it becomes that bit more challenging.
So Em – who is mum to a six-year-old daughter with another little girl on the way – has four rules she sticks to, to make things a little easier.
"The school run is always a breeze because I stick to a few simple rules, which make life that little bit less chaotic," she told us.
"My rules are all based around doing things the evening before."
Firstly, Em gets her daughter's uniform out and ready, "along with tights/socks, shoes and any hair clips etc that you will need in the morning".
Read more Parenting stories
I'm a mum & I've discovered how to feed a family of 6 for 41p anyone can do it
The Radford kids create a foolproof plan to send parents-of-22 Sue & Noel abroad
Next, she fills up the water bottle and pops it in the fridge so it's nice and chilled for the next day.
She makes sure that everything's ready by the front door too.
"Have any snack boxes, gloves or anything else your child may need ready by the front door," Em explained.
"Right now for me this includes gloves as it's still nippy, but in the summer this would be hat and sun lotion."
Most read in Fabulous
Kate and William's Baftas PDA 'sends clear message to Harry and Meghan'
I'm a mum-of-13 – I start my 18-hour day at 5.30am & splash £15 daily on crisps
Shoppers go wild for Primark's cheap new organising cubes
I'm only 27 & worth six-figures…the 5 mistakes you're making that keep you poor
And lastly, Em ensures that her daughter's school bag contains everything she needs for the day ahead, before hanging it up "in exactly the same place every day".
"That way you and your child know exactly where it is each day, so no rushing around like a headless chicken trying to find it in the morning," she grinned.
She used an S hook that she got from Amazon to hang onto the IKEA Kallax unit near her front door.
And given that you can buy a pack of 30 of the hooks for £7.69, they work out at just 25p each – and are a total game changer for keeping things organised.
Then when it comes to the next morning, the only thing you need to do is to get the water bottle out of the fridge.
"Seeing the snack by the front door is my reminder to grab this," she said.
Em shares her cleaning, organising and cooking tips on her Instagram and TikTok pages, as well as posting her most used mum hacks.
Source: Read Full Article