I'm a Dollar Tree fan – how I made my patio look way more classy for just $2.50 using décor DIY | The Sun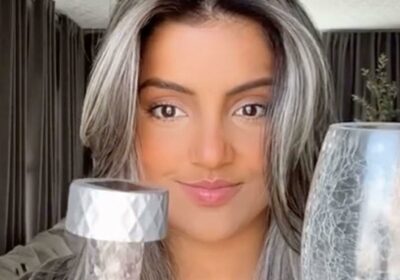 ENJOYING an evening on your patio after a hot summer's day can be the perfect way to relax and cool off.
According to a Dollar Tree super fan, you can add a chic light to your outdoor area for less than $3.
TikTok user Laryssa Meira shared her two-step DIY Dollar Tree patio light.
Laryssa's $2.50 project consists of a Glass Crackle Vase and Silver Textured Solar Light.
After removing the stake from the garden solar light, Laryssa placed it upside-down in the glass vase.
The home-made light is perfect for outdoor use as the light is resistant to harsh weather and waterproof.
Read More Life Hacks
I'm a Dollar Tree fan – ways to make home look expensive with $1.25 items
I'm a Dollar Tree fan – my fave perfume dupes for $1.25 from Burberry to Gucci
Laryssa's followers took to the TikTok comment sections to share their thoughts on the Dollar Tree tip .
"That is genius!" wrote one viewer, referring to the cheap DIY hack.
Another TikTok user said they "ran out and got it immediately."
"Awesome idea, heading to dollar tree tomorrow," commented a third person.
Most read in Fabulous
TWINCREDIBLE
I struggled to have kids but I gave birth to 2 sets of twins at the same time
I've found the most flattering swimsuit for women with mum-tums from Shein
Sleep guru says you can put kids to bed at 5.30pm & get them to sleep through
Mum slammed for 'unrealistic' sleep training routine for NEWBORN baby
One follower said "I did this with their hanging lantern solar lights and a stemless wine glass from the dollar tree."
"Going to buy ALL OF THEM FROM THE DOLLAR TREE," commented another user.
Source: Read Full Article